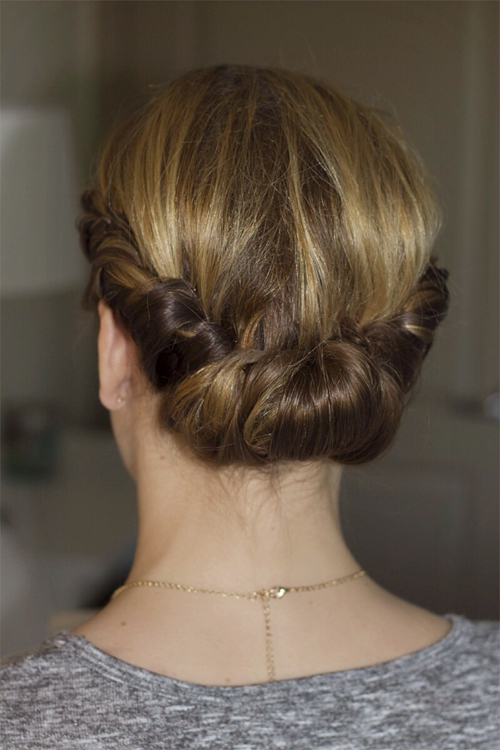 Nichole Ciotti is a San Francisco-based entrepreneur who shares her personal style, beauty tips, and adventures on the blog, Vanilla Extract (vanillaextract.me). You can find her at @nicholeciotti on Instagram and Twitter.
We're big fans of the top knot, but sometimes it's nice to have another 'do to call on when you have dirty locks. Enter the bohemian roll. This is a fun and quirky hairstyle that you can easily incorporate into your morning routine. Practice your new 'do when you have a little time and then make it your go-to when you have next to no time to get ready in the morning, or want to save your hair from heat styling.
What you'll need: Bobby pins, two clear elastics, a teasing brush, and hairspray
Step 1: Create a center part (or work with your natural one).
Step 2: Starting with the left side, gently roll hair away from your face, tucking the hair into itself as you make your way down the hairline. Make sure to keep the roll close to your face.
Step 3: Roll hair to just past your ear and secure with bobby pins.
Step 4: Repeat the same on the right side.
Step 5: Next, you'll need to create two low ponytails on top of one another. The top ponytail should include the top half section of your hair along with the ends from both twists. Secure your hair with a clear elastic close to the end (not the base) of the ponytail.
Step 6: Gather the remaining hair underneath the top ponytail and secure it with a clear elastic. Just like the top ponytail, the clear elastic should be secured toward the end of the hair and not at the nape of the neck.
Step 7: Tease the center section of both ponytails.
Step 8: Starting from the right side, wrap the bottom ponytail up around the top one and secure it where your left twist ends. Make sure to hide the bobby pins underneath the twisted hair so they don't show.
Step 9: Wrap the top ponytail over the bottom one and secure it on the right side. Again, make sure to hide the bobby pins underneath the twisted hair.
Step 10: Roll the excess hair into itself toward the nape of your neck and secure with bobby pins. Then, hairspray and go!
More from Vanilla Extract
Cotton Candy Chignon
How to Style Straight-Across Bangs
Playing Dress-Up