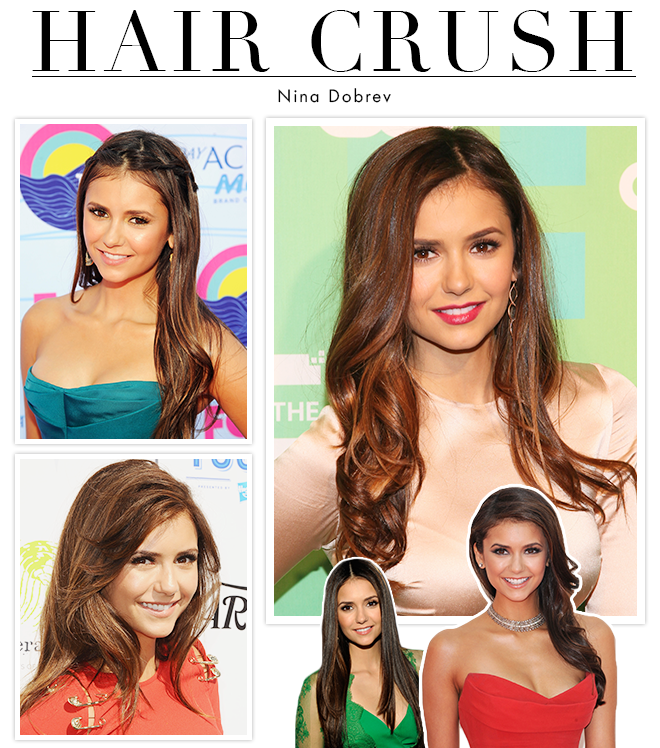 It's Halloween and Thursday so I'm going to allow myself to dork out here—it's "The Vampire Diaries" night. And as yummy as those Salvatore brothers are (played by Ian Somerhalder and Paul Wesley), my real crush is on Nina Dobrev…well, her hair.
The actress plays two characters on the show, the villainous Katherine and the compassionate Elena. What I love most is that both characters have very different beauty looks. Not only does this help tell them apart, but it demonstrates just how much beauty represents your personality. Katherine is always decked out in long luscious waves and smoky eyes while Elena sports thick straight locks and natural makeup. No matter what character she's playing, I always watch with envy. Nina has got some seriously gorgeous tresses!
Off-screen, the actress' hair is just as stare-worthy. It's so thick and shiny, she makes me want to run off to the nearest salon and dole out a few Benjamins for extensions. But alas, I'll control myself and just admire her hair from afar—and steal some of her "healthy hair" tips.
Condition, Condition, Condition
On Twitter, the actress responded to a fan who asked her how to make her hair beautiful like Nina's. She responded with "Conditioner, and hair masks! The Unite deep condition!"
The actress told InStyle that she actually rotates three masks, applying one every third wash (so about once a week)—the Sofia Treatment by Unite, a keratin treatment, and a mask by MoroccanOil. All three add in moisture while the keratin also helps to rebuild hair follicles from heat damage.
Take a Break
Nina likes to give her hair some down time. "Try not to style it when you don't need to," she told Teen Vogue. "You can put a braid in it, or if you're not sure how to create a braid, go to a braid bar and get one. It's much better for your hair that running it through irons and heat all the time."
Now let's take a look at some of her best updos!
Doesn't her long, gorgeous hair make the most beautiful fishtail braid? And the thicker the braid, the better. Perfection.
It even looks amazing in a messy side bun. Just look at that shine.
One of my new favorite styles on her, this faux hawk ponytail somehow gives the illusion of her hair being even longer.
Although Dobrev hasn't yet landed a deal with a top hair care brand (seriously, how is this possible?!), she is the face of Origins GinZing Energy-Boosting Moisturizer (available now at origins.com). Because let's face it, her skin is just as flawless as her hair! And her skincare routine is just as easy to follow. Oh man, my girl crush just got even bigger.
Read more: Hair Crush: Selena Gomez Has Us Itching Throw Out Our Hair Straightener