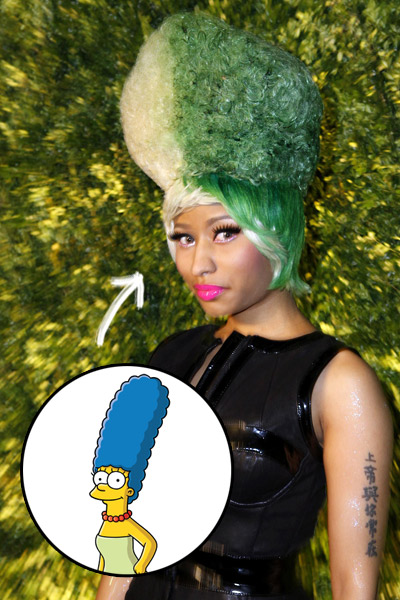 Photo: © Donna Ward/Retna Ltd.
Nicki Minaj's hairstyle inspiration is cartoon character Marge Simpson. The eccentric rapper has recently been seen in a number of gravity-defying beehive wigs, and claims the idea came to her when thinking about the animated matriarch's tall blue hairstyle.
She told People magazine, "Never did I think I would be rocking the Marge Simpson. But you know what, now that I am wearing them I realize that she was cutting edge and before her time. So shout out to Marge!"
The 26-year-old star enjoys playing around with fake hair because it means she is always evolving her image and can feel "different."
She said, "My wigs are ever changing in height, width, color, size. Wearing them makes me feel that I can be a different person every day and that is kind of exciting. Sometimes I wake up in the morning and I am like, 'This is a high-top day', or, 'This is a bob day,' but when I get my clothes on that's when I see."
Nicki also said that unlike some stars, she will happily wear her wigs more than once–providing they are clean.
She said, "Of course I wear them more than once. Wash it and rotate, and it is good as new."


Try on Nicki Minaj's hairstyles in the Makeover Studio!