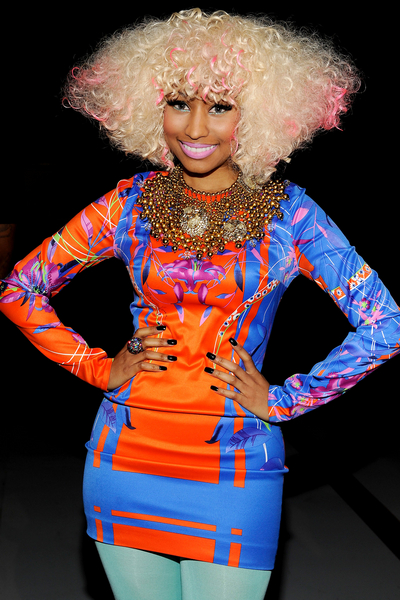 Photo: © Kevin Mazur/WireImage
Nicki Minaj's fashion sense is inspired by Japan. The 26-year-old singer is known for her eccentric sense of style but claims she is influenced by everyday life in her clothing, particularly events in the Far East.
She said, "Where do I get fashion inspiration? Life, especially the streets of Tokyo. Life inspires fashion."
The "Your Love" singer also admitted she can't bear to leave the house without lipstick and is a particular fan of MAC products. She admitted in an interview, "I can't live without Pink 4 Friday lipstick–and all things MAC. And shoes!"
Asked for her best-ever outfit, she said, "Probably what I wore to take over BET's 106 & Park in New York on the day my 'Pink Friday' album was released–some amazing Christian Louboutin boots. They have three layers of grey fur and zip up. Worn with tights and shorts. It's important for me to be sexy, I can't really speak for anyone else. It's become synonymous with me especially since my name is Nicki Minaj. Now, when I go out, people want to see me look sexy. It's important to me."
<a href="
/virtual-makeover/celebrity-hairstyles/nicki-minaj"&gt/
;

Try on Nicki Minaj's hairstyles in the <a href="
/virtual-makeover/celebrity-hairstyles/nicki-minaj/" title="Nicki Minaj">Makeover Studio!