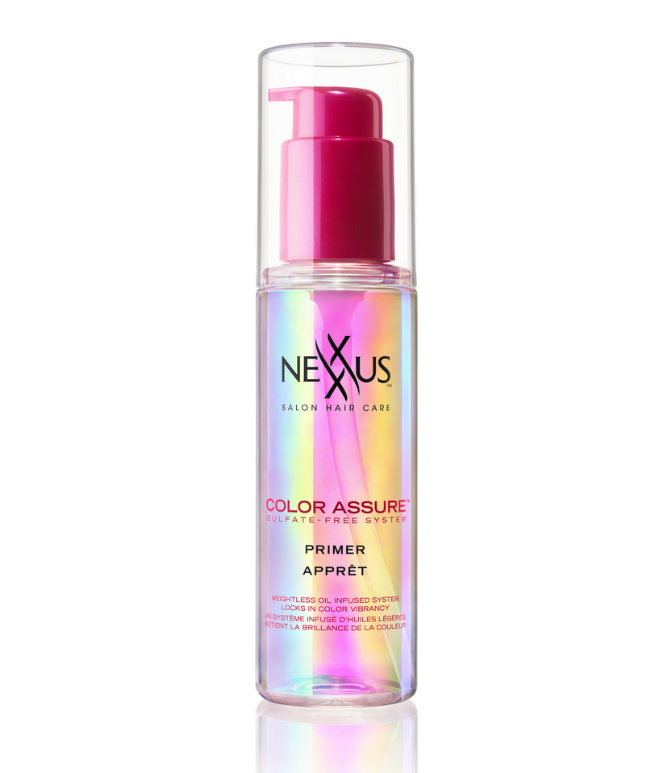 You know how you see the "bestsellers" and "most popular" products in beauty stores, so you of course scoop them up, but then you realize you have no idea how to work them? In "How It Works," we're going to explain to you exactly how to get the best use out of your products, whether they are cult classics or hot off the conveyer belt must-haves. We'll teach you the basics, as well as a few industry expert tips to make sure you're getting the most out of everything you buy.
If you've even put your foot in the door of hair color, you know how tricky it can be to make the color last. Between washing, styling, and time in the sun, hair color fades faster than you can book your next appointment. While there are certain things you can do to help your color last longer, it helps when certain products come along to really keep your hair looking fantastic between appointments. The science behind Nexxus' new Color Assure Pre-Wash Primer helps to make the most of your color, something that we all strive for.
MORE: Ask an Expert: How Do I Keep My Hair Color From Fading?
Product Perks:
The chemicals in the Pre-Wash Primer help to repel water, which is one of the harshest agents for fading hair color.
Ingredients like white orchid extract help to provide moisture, while ingredients like almond oil work to reduce breakage, and coconut oil makes your hair extra soft.
Combined, the ingredients in this product work to give you color that lasts up to two times longer than if you didn't use the Pre-Wash Primer.
How It Works:
Before you even get into the shower, apply the Pre-Wash Primer to your hair. A barrier will be formed, and water will actually be repelled from your hair's cuticle, where the hair dye can get attacked by water. Once you're in the shower, wash with the sister Nexxus shampoo (or any color care shampoo product), and enjoy your vibrant hair color for weeks and weeks!
Where to Buy: Nexxus Color Assure Pre-Wash Primer, $17.99, Soap.com