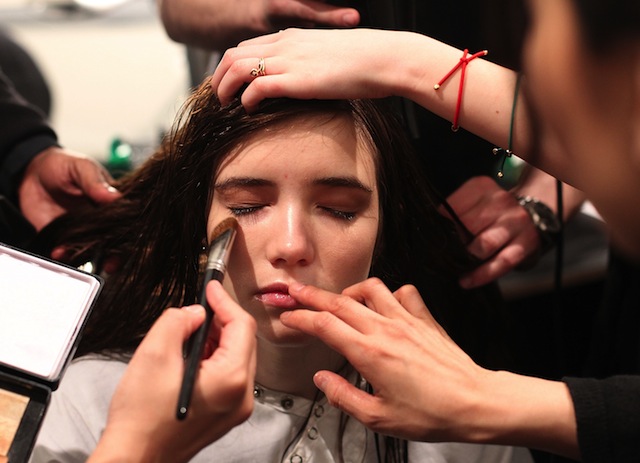 With New York Fashion Week just around the corner, we're busy working on finalizing our schedules, stocking up on vitamins and getting every last bit of sleep we can before the event-hopping begins. We'd like to say that it's not that different for makeup artists pre-fashion week, but their schedules are stocked full of "makeup tests" to figure out the looks that we'll be seeing walk down the runways. Since a big part of our time backstage is spent talking with the talented artists, and they are often jumping around to more shows than we are (while trying to figure out how to apply a bold lip and three layers of lashes in less than two minutes flat), we decided to speak to the PR geniuses behind M·A·C Cosmetics and see what fashion week is like for them, by the numbers.
Number of models M·A·C will work with backstage throughout Fashion Month: 5000+
Number of mascara wands and tubes ordered for artists' kits: 3,810
Number of nail lacquers ordered for artists' kits: 250
Number of times M·A·C Senior Artists clean brushes during Fashion Week: Daily & Nightly
"Every four hours or more and that's during the day. Then it's a full shampoo at night!" – M•A•C Senior Artist, US, Luc Bouchard, @MAC_Luc_B
Number of models expected to eat after a M•A•C Artist has applied a bold lip: All of them!
"I think they do it because they like to see me sweat. Which is why we carry straws!" – M•A•C Senior Artist, US, Cynthia Rivas, @MAC_Cynthia_R
Number of models M•A•C Senior Artists have seen faint during Fashion Week, on average: 2
"Last season, I saw at least eight models pass out. That's a record." – M•A•C Senior Artist, UK, Debbie Finnegan, @MAC_Debbie_F
"Fall off the runway: 10. Fall asleep in my chair: Too many to count. But I've yet to see a model faint, believe it or not." – M•A•C Senior Artist, Canada, Caitlin Callahan, @MAC_Caitlin_C
Greatest number of shows a M•A•C Senior Artists work in one day during Fashion Week, on average: 3
"The most I've done is three, with a press interview and makeup in between. And yes, it was exhausting!" – M•A•C Senior Artist, Ireland, Lesley Keane, @MAC_Lesley_K
Greatest number of shows M•A•C Director of Makeup Artistry Gregory Arlt has worked in one day during Fashion Week: 7
"I almost died." – M•A•C Director of Makeup Artistry, US, Gregory Arlt, @MAC_Gregory_A
Average longest day worked by M•A•C Senior Artists: 20 hours
"I think I've done a twenty hour stretch. Some hair and makeup tests take a very, very looooong time." – M•A•C Senior Artist, Canada, Melissa Gibson, @MAC_Melissa_G
Image via Paul Morig/Getty Images
More From Beauty High:
Editor Approved: Fashion Week Beauty Trends to Try
New York Fashion Week By the Numbers: Bumble and Bumble Edition
New York Fashion Week: The Twitter Handles You Need to Follow