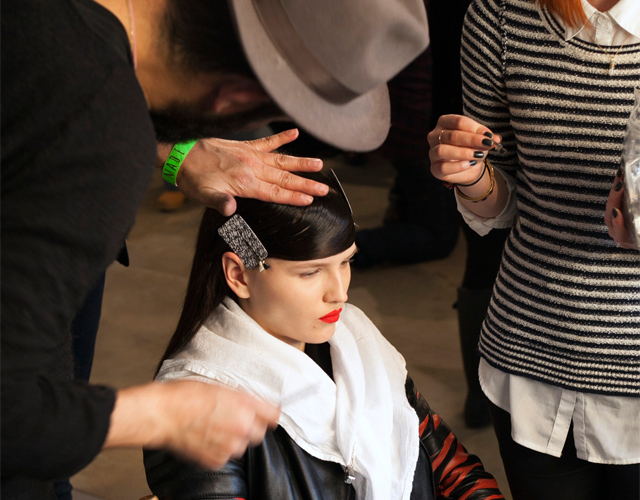 With New York Fashion Week just around the corner, we're busy working on finalizing our schedules, stocking up on vitamins and getting every last bit of sleep we can before the event-hopping begins. It's not that much different on the hairstylist side, but they're also working with designers on the awe-inspiring looks that they'll be creating for each show this season. Since a big part of our time backstage is spent talking with the talented hairstylists, and they are often jumping around to more shows than we are (while trying to figure out how to get someone's shellacked hair to be gorgeous and flowing in 10 minutes flat), we decided to speak to the PR geniuses behind Bumble and bumble and see what fashion week is like for them, By the Numbers.
How many stylists total will be on hand during the week? 60
What were the most people you had working on one model at one time (Last season)? 3 hair people (along with 2 makeup artists and a nail artist) So, yeah, six-on-one. Poor girl.
How many hairbrushes do you go through during one New York fashion week? Many of our stylists carry around bags with tons (25+) of different, specialized brushes and combs. Gotta be prepared for any situation!
On average, how many wigs are dyed for fashion week? We'll often do one or two shows with wigs per season…at 30 wigs a show.
Number of bottles of hairspray you go through? 250 cans to start, but the stylists always come back for more.
Number of bottles of Surf Spray? 150+, easily.
How many braids do you braid each season? If it's a particularly braid-heavy season, we could do upwards of a few hundred braids (and many more if you count each cornrow!).
How many hours is your longest working day during fashion week? 15 + hours
How many times does a hairstyle change at the last minute, just before a show? At least a few times per season, but we always hope for none!
What are the most models that your artists will style for one show? We've done a show with 75 models before! That was a big one. But the average is 25-30.
What is the shortest amount of time that you have to style a model for a runway show? Minutes!
How many models' hair do you have to wash throughout fashion week? Maybe 25 since we rarely have the luxury of doing that. Time and backstage amenities rarely allow for this.
Image via Imaxtree
More From Beauty High:
Beauty Industry 101: Experts Share Advice On How to Land Any Job
New York Fashion Week: Twitter Handles You Need to Follow
50 Best Beauty Blogs