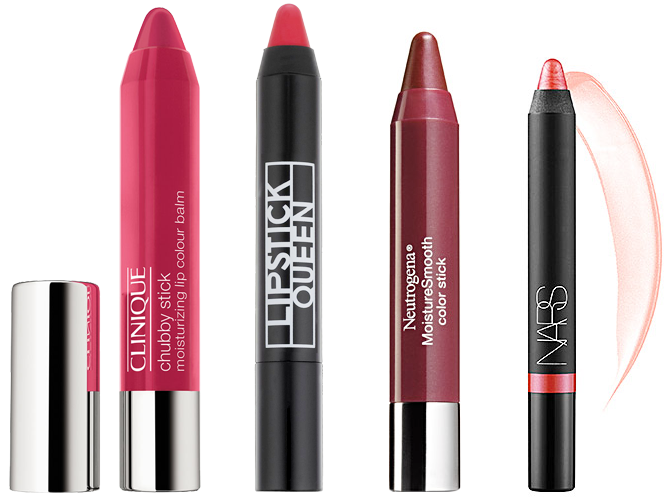 With all the lovely lippy products out there, one has become a new cult favorite for its total ease of use: It's now all about the chubby pencil. With a fat lip crayon, you can line your lips and fill them in with color that now comes in many different textures and hues. This super stick for lips cuts out those annoying extra steps in your makeup routine, like having to use a separate lip liner, lip balm and lipstick or gloss. These chubby babies pack it all.
Nars Velvet Gloss Pencil ($24, sephora.com) is an incredible long-wearing stick that gives you a glossy finish and is never sticky or tacky. This one is my go-to evening lip crayon, and I love to play with the bright bold shade of Mexican Rose or the sexy pinky hue of New Lover.
Nars Velvet Matte Pencil ($24, sephora.com) is full of rich pigment for a matte look and is enriched with vitamin E. It's incredibly long-lasting and never dries out your lips, which so many long-wear lip products tend to do. My favorite red is Dragon Girl and my favorite nude is Belle Du Jour.
My new go-to lip balm-style crayon is the Neutrogena Moisture Smooth Color Stick ($7.97, walmart.com). This one is made with shea butter and fruit extracts, and the smooth formula conditions your lips and provides beautiful soft color that glides on in a sheer wash.
Clinique's Chubby Stick ($16, sephora.com) is a hydrating blend of natural mango butters and jojoba oils and comes in fun bright shades that glide on sheer and leave lips feeling supple.
The Lipstick Queen line has the China Town Glossy Pencil ($20, barneys.com) for a sheer glossy formula in fiery shades that will look seriously sexy at night.
So forget about your multi-step lip layers and grab your new chubby friend!