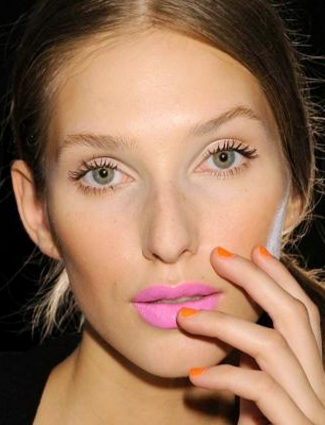 Photo: Gorunway.com
Neons are hot this season; from tanks, high pumps and of course, our guilty pleasure – neon nails. But what you probably don't know is that neon polish is illegal in the U.S.
Well not exactly. It's not illegal to wear, so no foul there. But it is illegal to produce.
"Neon polish is actually illegal to produce in the US," Jan Arnold, co-founder and creative director CND Colours told MORE magazine. "So if you see a neon shade in the store, it's imported – or your polish hue is just really bright, not a true neon, making it easier to pull off."
We honestly don't know why neon polish is such a controversial thing that this law would be created in the first place. Kinda like how in Ottumwa, Iowa it is illegal for any man to wink at a female with whom he is "unacquainted" or in Bartimore, it is illegal to take a lion to the movies.
However, like many laws, there is a loop hole. According to SheFinds, a U.S. cosmetics brand is currently developing the first legal neon polish.
What do you think of neon polish being illegal? Any other laws you find ridiculous?!