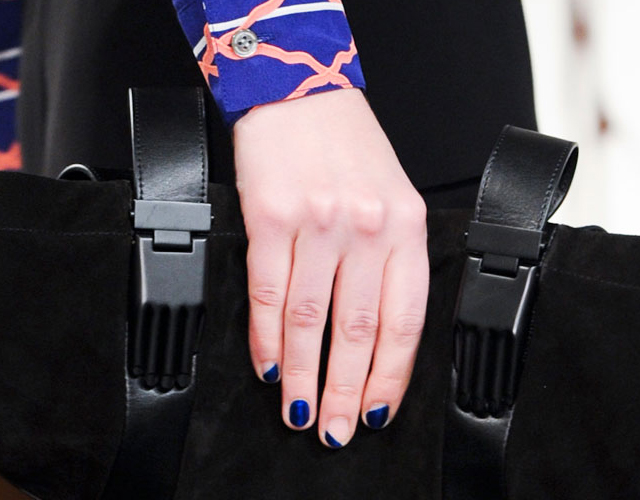 We have been tracking nail trends like a hawk this fashion week, and while there hasn't been a whole lot of "bling" there have definitely been some fun twists on nail art that we can't wait to try out ourselves. While admittedly, the Fall 2014 season is proving to be a bit more subdued in the nail realm, it's definitely proving that the subtle twists win big in the long run.
MORE: A New Take on Tips: How to Get a Wrap Around French Manicure
At Opening Ceremony's fall show, Naomi Yasuda for Essie created a negative space manicure in three different polish hues to coordinate with the collection. She played with varying diagonal lines (due to the lines that she saw in the clothing) but what we loved about this look so much was that it's easy to replicate at home – and can definitely be done in a number of different patterns.
For the show, Naomi chose to vary the spacing and angle depending on the nail, from thumb to pinky. This way, even though the technique is quite simple (she recommends using Scotch tape once your clear base coat has dried) the pattern you create in the end is intricate. For the show, Naomi used Aruba Blue, Go Overboard or Master Plan on the models depending on which looks they were wearing. This look definitely gets our "try at home" seal of approval.
Image via Imaxtree