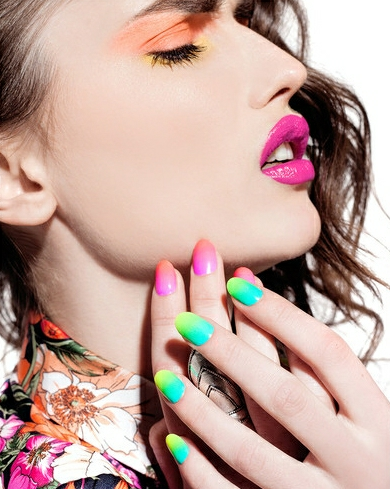 At Beauty High we constantly have new products crossing our desks and are always on the hunt for the next best thing. "The One Thing" is our way of sharing with you that must-have product that you need to introduce to your lives right now, even if it means skipping Starbucks for a couple of days.
Considering we're always on the hunt for the next big thing in nails, we're not afraid to throw our arms up in celebration when something really great comes along. Though we boast over 100 bottles of nail polish in our ever-growing collection, there are most certainly times when the nail art is too complicated or we just don't have time to let our fingernails sit and dry. We've come to rely on nail wraps as of late because of their convenience and the array of nail art possibilities, and NCLA nail wraps in particular have become a favorite of ours. The new Electric Ombre Nail Wraps have us completely impressed and ready for spring.
What Makes It Different: 
With two sheets of nail wraps, there are enough stickers for 3-4 applications, whereas most nail wrap packages only come with one application. 

The ombre design is available in two different color combinations, so you can choose to have a monochromatic manicure or add a pop of color with an accent nail.
The kit comes with a mini nail file, so you'll have everything you need for perfect nails in one place.
NCLA's Electric Ombre nail wraps are sold exclusively at Cameo Nouveau.
What Makes It The One Thing: 
Though they're not the first nail wraps to hit the market, they're certainly one of the best quality, staying put without peeling for much longer than a polished manicure. Plus, we can't get enough of the ombre color schemes that are perfect for the warm weather!
Where to Buy: NCLA Electric Ombre Nail Wraps, $16, CameoNouveau.com