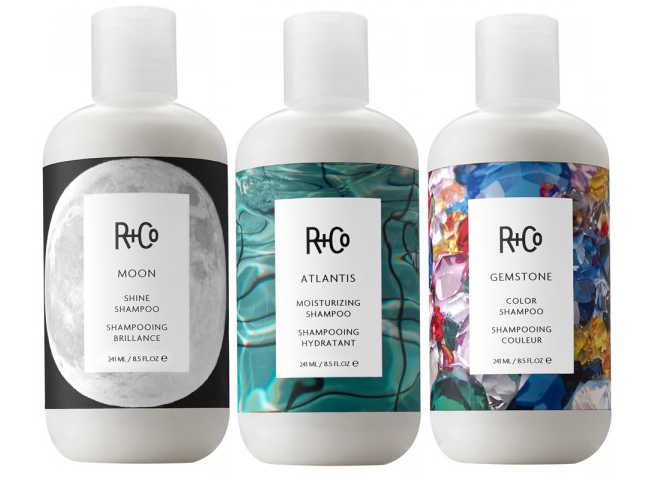 In our quest for a more natural beauty routine, shampoo has been one of the most difficult products to replace. There are plenty of natural shampoos available on the market, but we've found most of them to be… a little too natural, if you ask us, meaning they've left our hair feeling less than optimally clean.
Most "natural" shampoos do away with sulfates, which are the foaming agents that create lather in soaps and shampoos. As such, many of them aren't able to build much of a lather, so hair doesn't feel as clean as it normally would after a thorough sudsing. Each shampoo in the new R+Co line lacks harsh sulfates, but makes up for it with gentler naturally-derived ingredients that have similar foaming properties. This results in a satisfying lather that doesn't leave hair feeling dry or stripped, but still feels distinctly clean.
R+Co offers five shampoos, each catering to a different hair type—there's Moon Shine Shampoo, Atlantis Moisturizing Shampoo, Gemstone Color Shampoo, Bel Air Smoothing Shampoo, and Dallas Thickening Shampoo. They're all lightly and divinely fragranced, packaged simply and beautifully, and thoughtfully formulated with natural plant-based oils and extracts to gently clean the hair, and create that lather, without the harsh chemicals. Better still, there's one for everyone, so every hair type can get in on the natural bend.
Read more: What You Need To Know About Natural Beauty Products