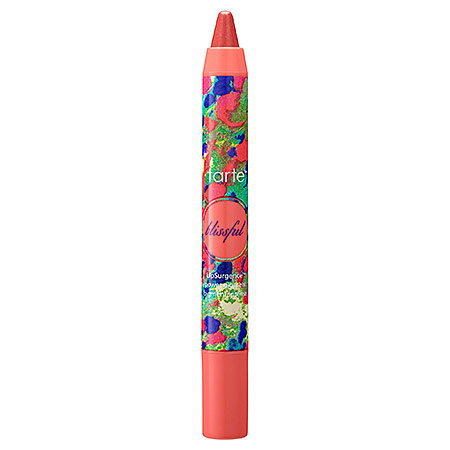 Making an effort to use more natural products doesn't mean you have to spare quality for a greener makeup bag. Natural makeup has come a long way—there's more demand now than ever, so naturally more and more brands are jumping on the bandwagon. We're loving these five natural makeup products right now.
Pacifica Aquarian Gaze Water-Resistant Mascara ($14, pacificaperfume.com)
A natural mascara that actually works is hard to come by, but this one fits the bill and then some. The vegan brush lengthens and separates, and the super-black formula contains coconut oil, panthenol, and kelp extract to nourish lashes and help to reduce breakage.
Tarte Power Pigment ($24, tartecosmetics.com)
You may not have even known that your favorite cheek stain purveyors were all-natural. Tarte products are so good, it really goes to show that you don't have to compromise the quality and performance of your makeup for better ingredients. We love these vibrant, slightly sheer lip tints, which come in eight coordinating shades to complement your cheek stain of choice.
Eve Lom Natural Radiance Mineral Powder Foundation ($50, spacenk.com)
Mineral powders have been around for a while, but it's only recently that new companies have picked up the idea and ran with it. The chalky, difficult-to-blend mineral foundations of a few years ago have made way for formulas like this one—a 100% natural, talc-free powder that only ever looks like powder when it's in the jar. Buffed on with a brush, the finish is seamless, poreless, and light-reflecting for a soft matte look that lasts all day.
Bite Matte Creme Lip Crayon ($24, sephora.com)
Our love of this range of all-natural, food-grade lip color is well-documented. There's really nothing not to love about Bite's offerings—from lip balm and gloss to intensely pigmented pencils, you can't go wrong. These limited-edition lip crayons are our pick for their eye-popping colors and moisturizing matte finish.
Sunday Riley Effortless Breathable Tinted Primer ($48, sundayriley.com)
This oxygenating, paraben-free primer is the kind of thing you'll want to buy in bulk for fear it'll sell out and you won't be able to get ahold of it. There's nothing better on the market for sheer, complexion-evening coverage that feels like air on the skin.
Read more: Natural Beauty Tips Every Girl Should Know