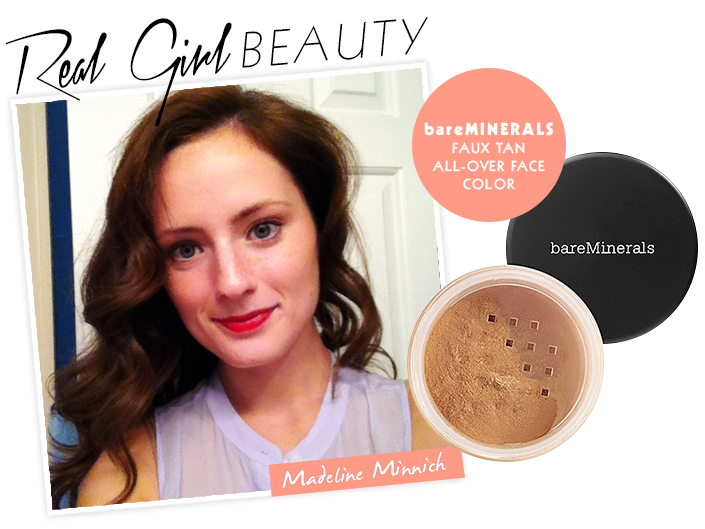 Going backstage and learning tips and tricks from the professionals may be an adventure, but sometimes, the best tricks come from real girls. In "Beauty and the Real Girl," we learn the best beauty tips, tricks and secrets from girls just like us.
Considering the amount of SPF we douse ourselves in on a daily basis, sometimes we need a bit of help when it comes to looking sunkissed. While it's simple enough to use self-tanner on your bodies, finding the right bronzer for your face can be a bit tricky. It needs to be gentle, not clog pores, and look natural, and finding the perfect one means going through quite a few of the wrong bronzers first.
MORE: 10 Things No One Ever Tells You About: Spray Tans
Madeline Minnich, a student in New York, manages to get the natural bronzed look on a daily basis, so we needed to learn her secrets.
"I really love the bareMinerals Faux Tan bronzing powder," Madeline tells us. "This product gives my face just enough bronze to keep me from looking like Casper the ghost, and is even good for your skin.  In fact, the bronzer is so gentle that you can sleep in it.  I use this product daily and would recommend it to friends.  The key to applying this product is to make sure your moisturizer is completely dry before using it.   Also, only apply the bronzer to places on the face that the sun would naturally hit  — cheekbones, forehead, nose, and chin."
Where to Buy: bareMinerals Faux Tan Matte Bronzing Powder, $19, Bareescentuals.com