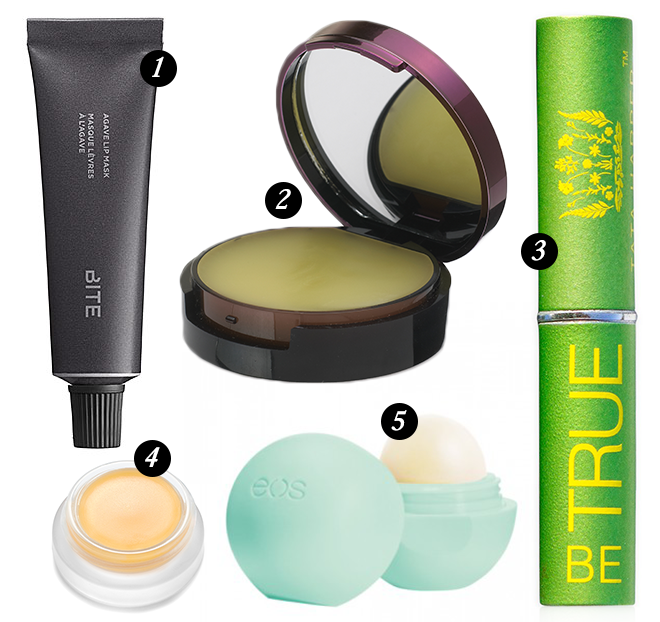 Even if you're not willing or able to go completely organic with your beauty routine, there are some small changes you can make, like natural lip balm. Lip balm is a wise product to go all-natural with, since you ingest a lot of it through licking, eating, etc. while wearing it. Below, see some of the best all-natural lip products.
1. Bite Beauty Agave Lip Mask ($26, sephora.com)
Technically a lip mask, this treatment delivers serious hydration. It's made with organic agave nectar, jojoba oil, vanilla CO2 extract, and triple the amount of antioxidant trans-resveratrol found in red wine.
2. ESPA Mandarin Lip Balm ($10, espaskincare.com)
This spa favorite uses all-natural ingredients like Mandarin essential oil and wild mango butter to give lips a sweet treat. It also comes in a nice mirrored compact.
3. Tata Harper Be True Lip Treatment ($28, tataharperskincare.com)
This balm is especially good for aging lips. It's made with Spanish lavenderhelps, which is like nature's mild Botox. It relaxes the muscles, so there are less expression lines. It also contains wheat extract, which slightly plumps the lips.
4. RMS Beauty Lip & Skin Balm ($25, rmsbeauty.com)
The active ingredients in this balm (made in both Simply Cocoa and Simply Vanilla) helps to soften fine lines and keep lips moisturized. It can even be used to hydrate rough, dry skin.
5. eos Smooth Sphere Lip Balm ($3.29, evolutionofsmooth.com)
The unique sphere shape isn't just trendy, but it really does make for nice application. This balm is free of parabens and petroleum and uses shea butter and jojoba oil to keep lips moisturized.
Read more: Natural Beauty Tips Every Girl Should Know