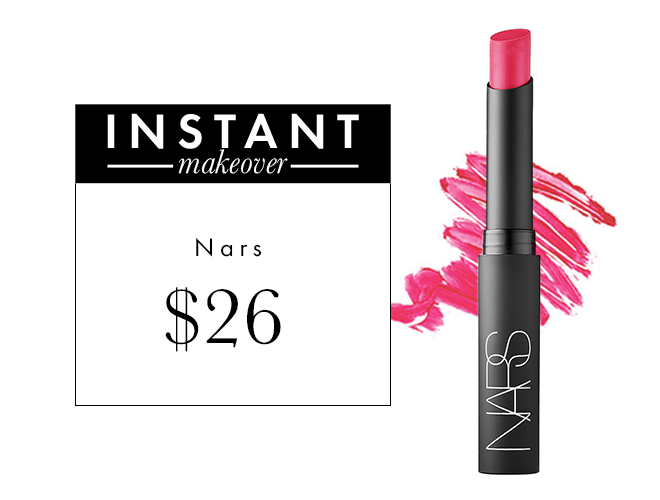 Occasionally we come across a product that bestows an immediate glow, changing our look (for the better!) in an instant. Since we'd be remiss to keep them to ourselves, we highlight these genius finds in our Instant Makeover series.
I've been a bonafide lipstick hoarder for as long as I can remember. Relax—it isn't a situation deserving of its own television special, as each tube is (fairly) well-contained in cabinets and drawers and overflowing makeup bags, but it's safe to say I own more lipsticks than the average person. The weird part is I honestly don't wear lipstick all that frequently. I wear it occasionally—maybe once or twice a week on average. Sometimes I'll go through a phase where I wear it continuously for two weeks or so, and then I'll give it up for another month. I guess what I'm trying to get at is the fact that I own hundreds of lipsticks I've never worn, not even once. Maybe I tried it on, liked the color on my face, and liked the packaging (very important), so I bought it, and now it's still in its box, sitting in my drawer, waiting to be loved, or even just liked.
Of my many, many lipsticks, there are only a select few that I've worn more than once or twice. There are even fewer that I would consider a go-to as part of my look—in fact, there are just two. (Weirdly, both of them are by NARS.) The one for which I receive the most compliments, that I wear the most frequently, that I can give only the highest of high praise, is NARS Pure Matte Lipstick in Carthage ($26, narscosmetics.com). Emma Stone wore it to the Met Gala all the way back in 2011, and it was the closest thing I've ever experienced to love at first sight.
As with most (all?) matte lipsticks, Carthage is best worn on flake-free, well-moisturized lips, but the struggle ends there. It glides on smoothly, won't actively dry out lips, and doesn't really require a lip brush given the angled tip. Really, though, this is all about the color. It's the most gorgeous neutral hot hot hot pink, the rare super bright shade that doesn't simply "work" on a wide variety of skin tones but really, truly flatters. It takes a dull complexion, a bad hair day, a standard bad day, what have you, and makes everything brighter and just… better. It looks gorgeous on both dark skin and super fair skin (I should know) and has carried me through a multitude of hair colors, including, most recently, an abrupt dark brown-to-platinum change (yeah, stay tuned for that one). This, my friends, is a bold lip color you can trust.
Read more: The Best Way to Wear Hot Pink Makeup