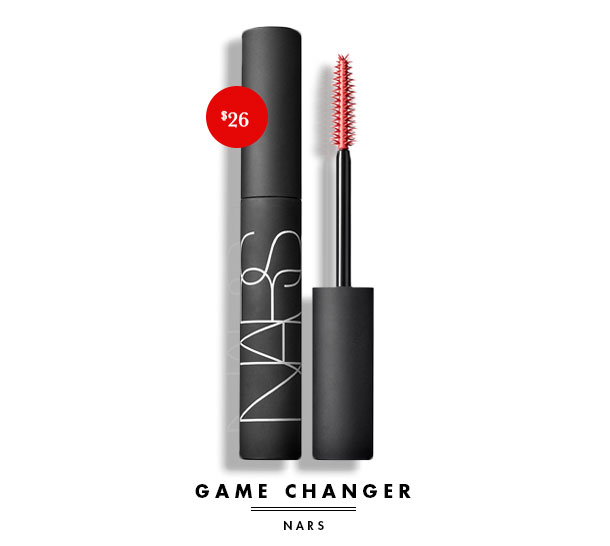 I know I'm not alone in my deep and abiding love for NARS' amazing line of Audacious lipsticks, and when I heard rumors that they'd be adding an Audacious mascara to their cosmetic lineup, I was beyond excited. If you're anything like me, finding an amazing mascara can be a challenge; it needs to volumize while lengthening, it can't be hard or drying, it needs to be the blackest black—oh, and it needs to last all day without smudging or wearing off. No big deal, right? The only thing I want is everything!
Well, now I want for nothing. Because NARS Audacious Mascara ($26) is EVERYTHING I've ever wanted for my eyelashes. It's beyond a game changer: it's a life changer. And because I love you, Daily Makeover readers, you are getting the very first look at this revolutionary lash product.
Let's begin by discussing the packaging, which is magnificent: Instead of the standard, slippery plastic tube, Audacious comes in a sleek, almost rubbery-feeling tube. Its matte finish means that it's both easy to find in your makeup bag, and allows you to get a good, solid grip on the cap. Speaking of the cap, it has a really cool click-lock that means accidentally leaving your mascara open is a thing of the past—you can feel it "click" into place when it's properly closed. A small thing, but definitely nice to have.
The brush is also really unique. It's plastic, with alternating long and short "teeth," and the formula—which we'll get to—is SO dark that you can't even tell that the plastic is red. But the best part is that it's flexible; the brush itself bends, and then it bends at the joint where brush meets wand. A brush that flexes allows you to apply pressure to your lashes without smothering them in product, so say goodbye to clumpy lashes forever.
But a great brush is nothing without an amazing mascara formula, and it's here that Audacious really distinguishes itself. Black Moon is really, TRULY black, with a very natural matte finish—so it just looks like you have naturally amazing, dark eyelashes. A single coat provides subtle volume and length; a second coat gives MASSIVELY thick, full lashes. It adds (and holds) curl—I have stick-straight eyelashes, and I've given up using my curler entirely when I wear Audacious.
And the wear—ah, the wear! I could not ask for a mascara that does more: it lasts through my un-airconditioned subway commute, a nine-hour work day AND a sweaty pilates session without a single smudge. Unlike a lot of other longwear mascaras, it isn't drying; my lashes feel soft, and not like I have a tonne of product on them (even though I wear 3 coats on my top and bottom lashes). It's also easy to remove, coming off easily with my cleansing oil when I wash my face—no scrubbing!
This mascara is everything I've ever wanted. It gives me the lashes of my dreams. Never, in my entire beauty-loving life, have I ever been this stoked about a mascara.
Audacious will be released very soon; you can sign up here to be notified when it's available online. And trust me: you're going to want to try this. I'm going to be buying this in bulk for the rest of my life; try it, and I know you'll be a believer, too.
More from Daily Makeover: The Concealer That Will Change Your Life.