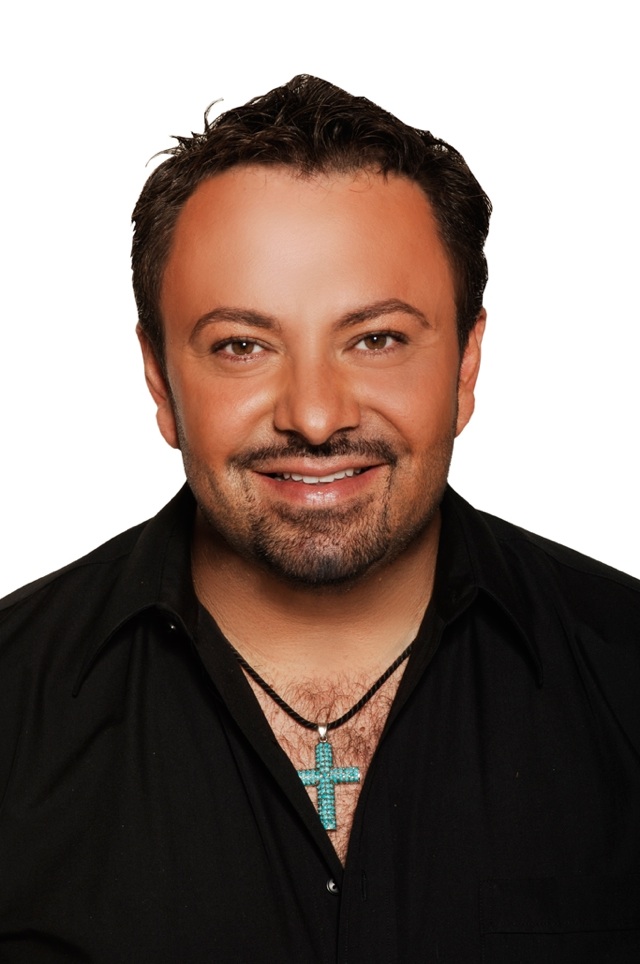 Aussie makeup artist Napoleon Perdis has been playing with colors and trends since he was just 13-years-old. The self taught Perdis debuted his first concept store (with full cosmetics collection) in '95, and now sells all over the world, even in stores such as Target and Ulta. With spring trends coming at us full force, we chatted with Perdis to find out how to wear the new shades. Read on below to find out his tips and tricks.
We saw a ton of bright shadows on eyes during the Spring 2011 runway shows what are some shades that we can try for an everyday look?
I absolutely loved the spectrum of eye-popping shades like persimmon, magenta and cobalt blue that came down the spring runways. To try these shades as everyday options, use the color as a starting point for inspiration then find a more sedate shade of that color. I love my Color Discs in Tequila Sunrise, Ruby Slippers, and High Voltage Violet. You can also try using a highlight shade over the bold color to reduce its saturation and hue – it's like adding water to watercolors, it sheers it down.
Often times the shadow palettes can seem extremely bright and daunting and Im sure with these uber bright spring shades that will remain the case. What are your tips for toning down a color on your lids?
I like to interpret it by taking what I see on the catwalk and making it wearable by starting at 20 percent and building from there based on what you feel comfortable wearing. If the look calls for a strong blue shade as an eye shadow, try it as an eye liner or a simple color wash all over the eye lid. Try keeping a wash of color on the eye lid and below the crease so the look is more wearable. Something else to keep in mind is the use of a blended eyeliner and the definition of mascara help to tame down the intensity of a look.
We also spotted bright lips on runways, but less of the same classic reds and more fuchsias and oranges. How can we pick the right bright lip for our skin tone?
To scope out the right bright lip, think pink for light skin like my DeVine Goddess Lipstick in Calypso and orange for darker skin like my DeVine Goddess Lipstick in Hara. I suggest mixing a clear lip balm with a strong shade to get the right day look for you without an overstated pout. Keep in mind that a strong lip is best balanced with soft eye shadow look. Remember: lipstick marks a woman's territory.
Now on to the cheeks the pink windblown blush look was very popular this year, and doesnt seem easy to achieve. How can we get this fresh-faced look without going overboard?
Try two things: cream blush works fabulously as very little goes a long way and the staying power is great. A cream blush will also give you that natural wild blown-like flush and all you need is a brush or your finger to blend. For this effect, I love my Barely Blushing cheek stain in Buff for a paler skin type or in Rouge for a deeper skin tone. If youre more a bronze powder kind of girl, apply your blush on the apples of the cheeks and blend out towards the ears. Finish with a sheer powder to diffuse the color saturation.
And lastly, due to the fact that were playing up our brows this season, the au natural look is still very much on trend. How do we manage to get this barely there makeup look while still concealing our flaws?
This 'natural' look can often be the trickiest to achieve, but there are some definite tricks to making it a breeze. Start off with a serum like my Napoleon Complex Skin Renewal Serum to make the complexion glow and follow up with a primer to ensure that your makeup, although natural, will stay smoother for longer and last the entire day. My career long mantra has been not to prime is a crime.
For a flawless foundation look, go for minimal coverage with a spray foundation like my Boudoir Mist Spray Foundation to quickly cover up any unevenness and blemishes. For the eyes, start with mascara first. I like to think of mascara as a cup of coffee to complexion, and it will instantly frame the eyes. Define the cheeks with a sweep of bronze contour and apply a dusting through the socket of the eye for definition. Finish with a sheer subtle lipstick and line the lips last for natural definition and color that will stay in place.
Napoleon Perdis is an in-demand makeup artist distributing his namesake collection throughout the United States, Australia and New Zealand. He has an array of devoted clients and celebrity fans, such as Becki Newton, Sarah Michelle Gellar, AnnaLynne McCord and Jessica Szohr.
Photos courtesy of Napoleon Perdis