It's no shocker that we focus on our feet when it's sandal time, but what about when we're bundled up in fun tights and knee-high boots? Our friends at StyleList spill the secrets on how to keep a pretty pedicure during winter.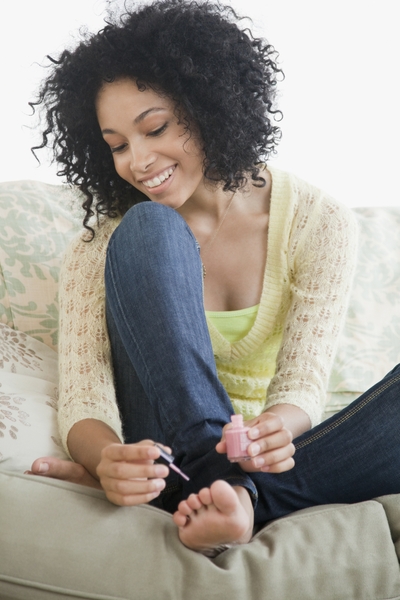 Photo: © JGI/Jamie Grill/Blend Images
Mara Taskin, a nail technician at the Rita Hazan Salon in New York City, says our feet need extra attention when the temperature drops. Counteract the unglamorous effects of rough, chapped skin and dry air with her foolproof pedicure tips.
Every time you shower, use a pumice stone (try Dr. Scholl's Exfoliating Stone File For Her) to smooth out flaky spots. Be sure to let your feet soak for at least 5 to 10 minutes — it should be the last thing you do in the shower.
Check out the hottest new nail polishes!
After drying off, rub in a cream fortified with Vitamin E (like Palmer's Crack Butter Concentrated Cream with Vitamin E) because it provides numerous benefits, claims Taskin. "It's an antioxidant, so it protects skin from various sources of pollution, UV rays, stress damage, drugs and toxins, all of which can trigger cell-damaging free radicals; plus it just helps keep skin and nails healthy and supple."
Dab some of your favorite cuticle oil onto toes, then use a cotton-covered orange stick to gently push back the cuticles — no cutting!
Once a week, break open a Vitamin E oil-filled capsule (Taskin suggests looking for organic brands at the health-food store) and apply the oil all over your feet. Throw on some cotton socks and you're ready for bed.
Glycolic acid does a wonderful job of melting away layers of dead skin, especially calluses on heels and sides of the feet. Try Avon Foot Works Dual-Action Pedi Peel (each easy-to-use pad contains glycolic, lactic and malic acids for effective exfoliation).
Taskin's tips for a simple and chic at-home pedi:
Soak feet in warm water, and nix the soap since it can be drying; instead, add some Vitamin E directly to the water.
Use a pumice stone to buff away dead skin, and an emery board to file the nails by swiping in one direction. Then apply a few drops of Vitamin E to cuticles and massage until absorbed, then use an alcohol swab to wipe any remaining oils from the nail surface, being careful not to wipe the cuticles.
Brush on a base coat followed by two coats of a light color (reds, blacks, purples and other dark colors are best applied by a professional, since they can often look messy if not applied meticulously) and follow with a top coat, making sure to allow a few minutes of drying time between coats.
Some final bits of foot-related advice:
Vaseline will only make your skin slippery, not moisturized.
Walking barefoot on carpet can draw moisture from the feet and lead to even more dryness. Try a drop of Krazy Glue on superficial skin cracks.
And if you don't have time for a fresh pedicure, rub in a touch of cuticle oil to your feet — it'll add moisture and shine to your polish so it will look like you just got a nail treatment.
More from StyleList:
Moisture-Rich Lipsticks For Winter
HD Brows: The New Brit Beauty Craze