Scroll To See More Images
Organizing all of your beauty products is key, of course, but if you're a card-carrying nail polish aficionado, you'll know full well just how easily our lacquer collections get out of hand. Rather than overflowing your precious bathroom cabinet real estate, or worse, finding bottles scattered everywhere, these nail polish organizer ideas will spark your creativity and inspire you to invest in some real storage options, whether they're store-bought or homemade.

This clean, classic setup is anything but boring, and if your polish collection is particularly expansive, these large racks will organize it nicely without totally overwhelming your space.
via Carly Cristman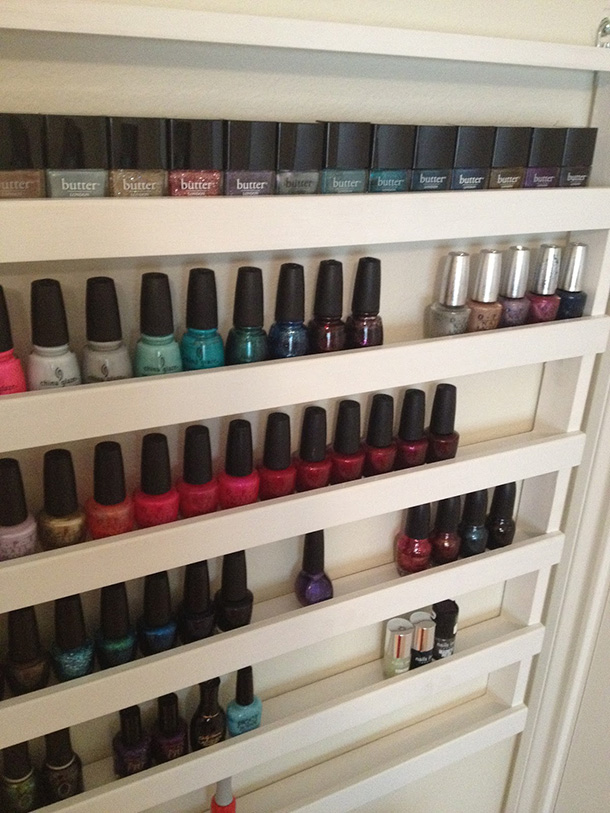 If you prefer a more rustic wood look—and you're a DIY guru—these easily assembled homemade racks are ideal. Better yet, you can find everything you need for cheap at your local hardware store.
via Product Hag

For an organization method that's way easy (and inexpensive) but still looks chic, clear, stackable storage boxes are your best bet.
via Temptalia

Could anything be cuter than this innovative open storage idea? Each shelf looks glamorous and expensive, but they're actually a simple, budget-friendly DIY.
via A Beautiful Mess

So simple: All you need is a metal spice rack, and you're good to go.
via Liz Marie Blog

You can make this cute, colorful nail polish organizer for around $5. Sold.

Polish collection just about overflowing? This 96-bottle wall display is an absolute must-have.
via The Dainty Squid

There are countless places to find vintage display racks like this one—hit up your local thrift shop or the Salvation Army for the perfect fit.
via Hippopotamuslee
Read more from Daily Makeover: How to Organize Your Beauty Products Like a Pro