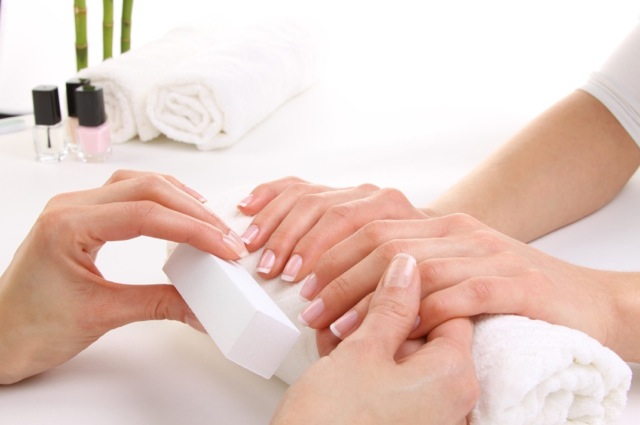 With the winter weather, we deal with many different problems regarding our skin and hair. Whether it's a problem with dry, irritated skin, breakouts, frizzy hair or a just plain ruddy appearance the seemingly long winter months can be a lot to bear. Unfortunately, the cold tends to also be a little harsh on our nails as well – so we talked with nail expert Skyy Hadley about some cold weather repair tips, and what she's looking forward to for spring.
This cold weather that we've been stuck in lately basically means our hands are dry and cracked. Whats the best way to fix this?
Cuticle oil and hand cream. Do not use lotion on your hands that are dry and cracked. Hand creams are thicker than lotions and can handle the bitter cold better than lotions can.
Hangnails and peeling nails can make even the most moisturized of hands look horrible. Whats the best way to camouflage and correct these problems?
Vaseline is the only way to fix and camouflage these problems.
There has been a lot of talk about different nail shapes lately; pointed, short, rounded. Whats your favorite for spring?
My favorite nail shapes for spring would be square nails with rounded ends as this is the most flattering shape for bright spring colors.
Nail color options are ranging from brights to neutrals, what are your top color picks for spring?
I love Zoya nail polishes. For a soft pink use Jessika. For more coral and orange try Heidi, and for a dark grayish purples I love Kelly.
When doing an at-home mani/pedi, whats the best way to get flawless nails?
Moisturize your hands and feet in a warm milk bath and follow up with a dry buffer. This will revitalize the nails and add extra shine. If you dont have time to add a few coats of color polish, be sure to add a clear top coat.
And, what do you suggest we do to prolong our manicure?
On the fourth day of your manicure remember to add an extra layer of clear top coat. When you paint your nails the first time, be sure to paint underneath the ends of the nails and to cover the nail entirely, leaving no part of the nail bare.
Finally, calluses and dry skin are a huge problem this time of year, what do you recommend for getting rid of them?
When you have the time, dry buff your feet to even out the skin. Never wet your buffer because a wet buffer will not connect with the skin the way a dry buffer does. Massaging your feet with a thick foot cream is always a nice option after the buffing.
Skyy Hadley is one of the top manicurists in New York City. She entered into the beauty business in 1988 and has worked at some of the most premiere salons, currently owning As U Wish. Skyy has serviced celebrities including Liv Tyler, Uma Thurman, Faith Evans, Claire Danes, Mariska Hargitay, and Johnnie Cochran.