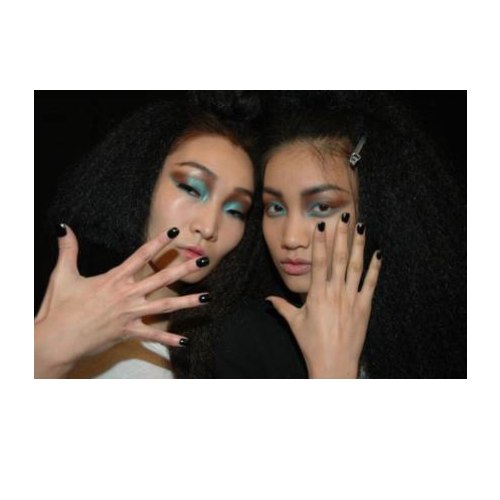 It seems that nails are increasingly garnering more attention these days, with the popular return of amazing artwork, artificial nails, metallics, and the more the merrier when it comes to piling on a variety of different colors. We were pleasantly surprised to find more designers making the nail look an integral part of their Fall look, and we've pulled some of our favorites, as well as the most popular nail trends to walk off of the Fall 2011 runways. Which is your favorite?
Nail Art to the Max
Plenty of shows proved that nail art is here to stay — for at least another season. From the over-the-top glitter at The Blondes to 3-D shapes and decor at Binetti, the louder the nail, the better. Artificial nails and real nails alike were found to possess artistry, with more companies using decals, such as Sally Hansen's Salon Effects Real Nail Polish Strips. We also found the moon manicure, in new variations of color, popping up everywhere! Picture above is on the runway at 3.1 Phillip Lim, which were a combo of naughty meets nice, with beige on top, and bold color filled in the moon.
Beige
We saw a lot of the beige variety, from the very pale to the borderline brown. At Isaac Mizrahi, the custom blended nails by Wanda Ruiz for CND used Chocolate Milk mixed with five drops of Asphalt to match the lip and eye color.
The New French Manicure
We saw quite a bit of color play, bouncing off of the traditional French manicure and taking it to the next, bold iteration via mix and match hues. Tibi kept it funky yet clean with a shade of neon pink specially created for the show to match the hats and accessories.
Deep, Deep Red
Popping, bright shades of red were few and far between this season, both on lips and nails, but we did notice quite a bit of red that went in more of a Bordeaux, berry direction.
As per the designer's direction, Pattie Yankee of Dashing Diva used Stock Exchange for Farah Angsana's Fall 2011 collection. We also saw deep shades of red at Carolina Herrera and Naeem Khan, that looked absolutely stunning set against the opulent evening wear.
Razzle Dazzle 'em – with Supped Up Black
Speaking with Priti NYC founder Kim D'Amato backstage, she pointed out that there's been a ton of black polish found on nails this Fall 2011 season – and we couldn't agree more! Most nail artists have added a bit to them, like some glitter or sparkle or a blue or green tinge, and we loved the "caviar nails" found at Cushnie et Ochs. Pattie Yankee for Dashing Diva created a textured nail look using seed beads directly from the designers Fall 2011 collection!