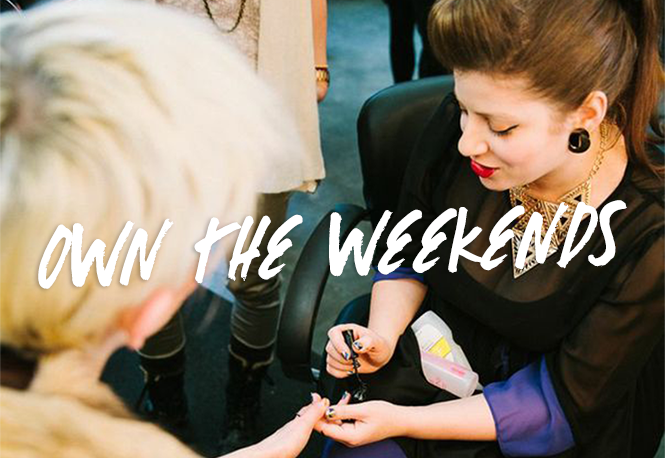 No one needs to tell us twice that summer is flying by – before we know it it's going to be fall, fashion week (!), and our weekends at the beach will have long disappeared. That is precisely why we are taking advantage of every second we have to spend outdoors now, gathering our friends and family and hopping from weekend to weekend. Since we know there are often a lot of photos and fun involved in these quick trips, (and you still have to look somewhat presentable during the weeks in-between) we spoke to one of our favorite nail gurus, Miss Pop, about her signature summer look, her beauty product go-to's, and her overall packing philosophy. Read on!
Beauty High: How would you describe your signature summer weekend look both fashion-wise and beauty-wise?
Miss Pop: I jokingly call my style: "Back to the Future" — a nod to the past and a nod to the now. I like to create a retro look full of bold colors and prints that still incorporates current trends to amp up classic styles. Right now I'm all about adding spiky, studded jewelry to full-skirted '50s style dresses.  And oh man, if they only had holographic sandals back in the day too!
Of course, since nails are my fave accessory, to match all that shimmer, I've been bejeweling my toes too with metallic gold and silver polish.  Plus, I line my bottom lash with silver so my eyes have extra twinkle too. I'm not exactly an au natural kind of girl, so especially in the summer when my usual makeup just melts right off, a little sweat-proof glam beauty makes me feel done up.
Regardless of your destination, what are 3 beauty products you never leave home without?
Hairspray, red lipstick (in the summer I trade out my classic matte shade for something more sheer) and a tinted sunscreen for my face like CoverGirl Smoothers BB Cream that's light enough for summer, but still gives my pasty skin the protection it needs.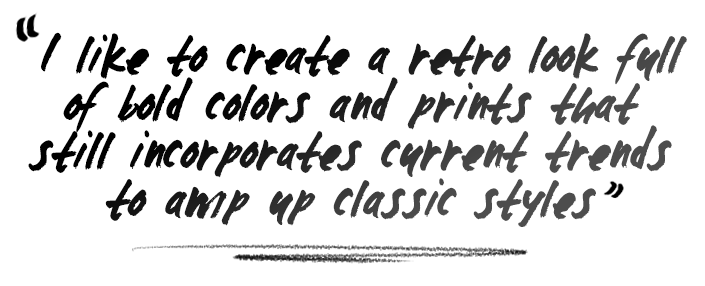 What's the last thing you bought that you're psyched to debut this summer?
During a crazy downpour, I ducked into Topshop to kill some time until the rain let up and wound up spotting something irresistibly sparkly: Mirror. Daisy. Earrings. The description feels like a missing verse from the Sound Of Music's "My Favorite Things." I have worn them almost every day since because mirror is a metallic that goes with everything, it picks any color up in its reflection.
Be honest: What type of packer are you?
The night before a trip, I'll take an hour to pack and I waaaay overdo it. I like to bring two outfits per day of vacay. Whatever I wear all day in the summer sun, I like to shed for a fresh dress for dinner. And don't forget the most important accessory/impractical thing to travel with: a giant, glamorous sun hat….or two. And don't even ask how much nail polish I bring to paint up my pals, too!  So, my luggage is ridic— I'd be the first to admit it.
What's one move girls should ditch from our typical weekday routines during summer weekends?
I don't know, the rules are there are no rules…. I think summer is all about doing what is comfortable. So, if wearing pumps on the beach (like the Empress of Lucite), makes you feel good, well, then go for it!
As for me, I give up my black liquid eyeliner during the day. Cat eyes can easily make anyone look feral with a single sweat bead streak. Besides, who needs liner when you've got sunnies on?!
What's your absolute favorite thing about summer weekends?
My birthday is June 21st, the first day of summer, so I was born biased. Summer is totally my favorite season. And I love to get away from sizzling heat in the city with good ol' fashioned road trips! Even if it's just a beach escape for the day, there's nothing I look forward to more than piling my friends in the car, rolling down the windows and turning up the jams.
More From Beauty High:
Makeup Artist & Street Style Star Kristin Gallegos On Her Summer Weekend Essentials
50 Best Beauty Blogs
101 Beauty Tips Every Girl Should Know