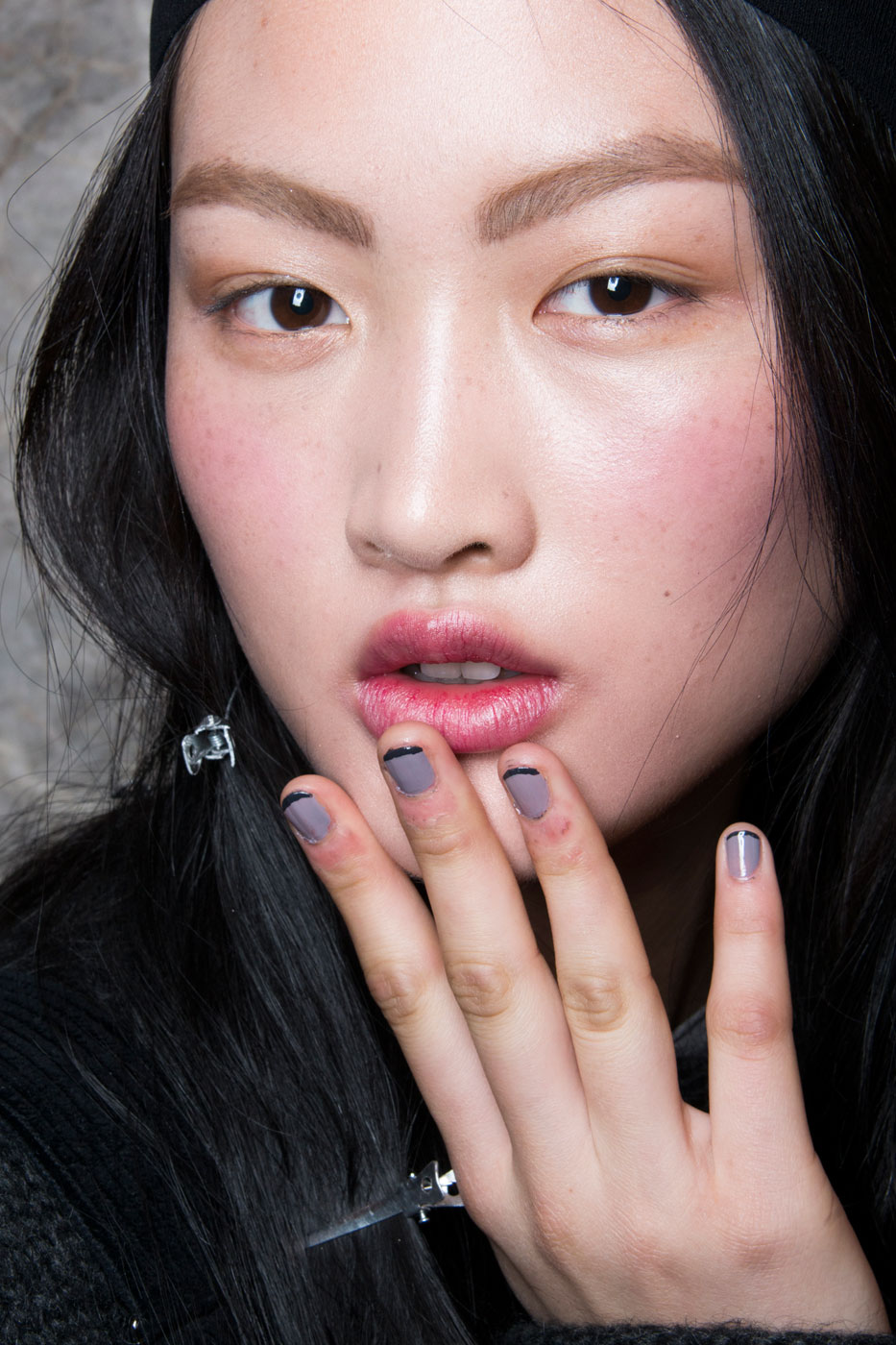 A couple of years ago, nail art was skyrocketing to the top of beauty trend lists everywhere. At-home kits were being produced, tutorials for every kind of pattern possible were created, and girls everywhere were perfecting their brush skills to have the coolest nails in their group of friends. Fashion Week plays a big part in whether a look will become a trend, and though nail art is more creative and has a wider range than, say, lipstick color, designers in every city were sending models wearing nail art down the runway.
The past few seasons, there's been more of a shift towards simple nail art that's much more DIY-able on the runway, but some designers have abandoned the trend altogether, using nudes or clear nail polish instead of elaborate tips. The fall 2014 season has proven that nail art isn't necessarily going anywhere, but there's a very evident shift happening in the industry towards more wearable looks. Whether it's a French manicure in modern color combinations or a subtle ombre, when nails are being treated, they're getting a more approachable take on the trend.
MORE: Nailed It: How Long It Really Takes to Create Fashion Week-Worthy Nails
To get an insider's opinion on where the nail art trend is going, we turned to Keri Blair, MAC Cosmetics Senior Artist, backstage at Fashion Week. "I think that with any trend, there's always the extremist and then there's always the simpler, more minimalistic approaches to things and I also feel with nails that they can be looked at as a detail or an accessory to an outfit," she tells us.
"Nail art doesn't always have to be about 3D dimension on the nail, it doesn't have to be about crazy talons, it doesn't have to be about things that are overly gaudy or that call attention to yourself. They can be that, they can be 10 tiny canvases of expression of who you are and who you're trying to be today, but I think there is a medium in there. What I think is interesting about what's happening in fashion, is that there are still elements. People who want to express themselves or create an accessory through a nail can do so just as simply with nail polish as they can do with adding an embellishment or a piece of gold leaf or a foiling on a nail."
MORE: Spring Nails: Everything You Need to Know for the Season
"So, I think that you really have to look at it individually. In some cases, having an overly done nail can be really garish when you're looking at an overall outfit, but in some ways, depending on the situation, it can really help to bring the whole thing together. So I never want to say that nail art is out, because the second you say that it's right back in your face, but I think that there are varying levels and degrees of what we can consider to be nail art. Actually the art of just a really beautiful manicure can be something special within itself. Whether we are doing a take on a French or a take on a gradient or as I said before an embellished nail, I think that there are varying levels and degrees and it's all about it being tasteful and it making sense with the story that the designer is trying to tell."
Image via Imaxtree