Every time I make an attempt to do any type of nail art at home, it's a disaster. Not anymore. Celebrity manicurist Candice Manacchio of CND, showed me how easy it is to create an eye-catching glittery ombre nail effect.
What you'll need: a base shade, then two complemantary glitters, one slightly darker than the other. You'll also need a clear top coat and an eyeliner brush with synthetic bristles. Try Sephora Collection Classic Small Synthetic Eyeshadow Brush #26 ($13, Sephora.com).
I went for CND nail lacquer in Plumville, ($8.60, Amazon.com) as my base shade, paired with dark purple and light fuchsia glitter. Manacchio advises to do one hand first, let it dry, then do the next one, to avoid messing anything up.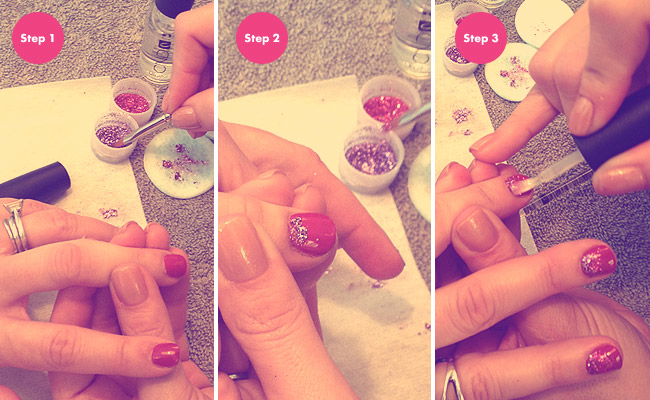 First, apply two coats of the base shade, letting the first one dry before applying the second coat. Then, while the second coat is still slightly sticky, dip the eyeliner brush into the darkest glitter and dab it on to the bottom of your nail bed. Then do the same thing to apply the lighter glitter just above the darker one. "It's practically impossible to mess up because there are no hard lines to keep," says Manacchio. Do the rest of that hand, then apply the top coat. She used CND Top Coat ($13, Amazon.com) One your nails are dry, wipe the eyeliner brush clean, the use it to sweep any excess glitter outside of your nails away.
That's pretty easy, right? Do you have any other easy nail art tips to share?