If you are like me, you love a little light self-tanner on the body during summer for a healthy looking bronze. Whenever I apply a self tanner to my face; however, it makes my skin look a little dull and seems to create a dingy and aged look to my complexion. When I look in the mirror, my pores can seem a bit clogged, and it never really feels clean. It may be because at the age of 39, I prefer to exfoliate my face with scrubs and glycolic acids to keep it fresh and glowing and use products that boost collagen and keep wrinkles at bay.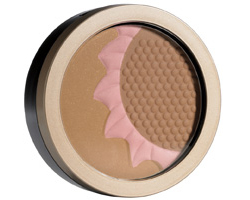 If you use facial self-tanner, you must avoid these types of formulas to keep the tanned look going, since those types of products will just fade the effect. There is a way to match the skin on your face to the tanned color on the body without sacrificing a smooth, clean-looking complexion.
Instead of using facial self-tanner, just apply your usual daily foundation, and then apply Sally Hansen Natural Beauty Inspired By Carmindy Airbrush Spray Makeup in a shade or two darker (depending on how dark your body is), spraying it over your face in a light mist. Use a sponge to blend it in for an all-over facial bronze look that appears like you have been kissed by the sun and completely matches the skin on the body. Sweep on Sally Hansen Natural Beauty Inspired By Carmindy Sun Glow Powder Bronzer to the temples, along the sides of the face and under the cheekbones for an extra kick of subtle shimmering bronze at night to enhance the this beachy look.
As an established makeup artist, many beauty brands send me samples of their latest products for consideration. I only write about the items that I truly love and I always abide by Daily Makeover's Editorial Ethics Pledge in each of my Positively Beautiful posts.