I have issues.
With my purse that is.
I'm always so paranoid that I'm going to need something that I jam pack it full with mostly non-essentials.
Here is my purse. It looks innocent enough right?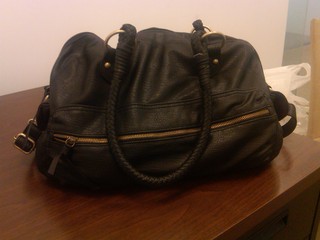 Here is an aerial shot of my purse open. I mean it looks packed but still looks pretty innocuous.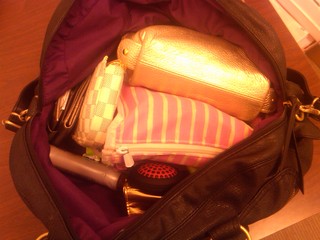 Here is a shot of the contents of my purse laid out.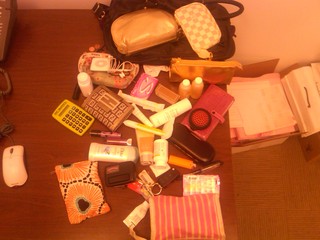 As you can see, I kind of like pouches.
I have one pouch for my drugs (Motrin, birth control, the various meds I have to take), a pouch for my camera, although now that I have a camera phone I suppose I don't need to hoof that around with me. I have a pouch for my iPod, a pouch for all of my lip glosses (this pouch also houses stamps and little mirrors), a pouch for my mini perfumes and another pouch for essential lip glosses.
Then I have two kinds of deodorant. I'm not really sure why. I mean…do I stink that badly? I know it's summertime in NYC but still…Next is my assortment of tampons, which any normal girl would utilize a pouch to house these but I have them right out in the open. You can see my check book (I only write checks to pay bills so why am I carrying this around!?), hand cream, a bright green calculator, gum, car keys, a pen, a garage door opener for the parking carage of the office I no longer work at, a mini baby powder (whiskey tango foxtrot?!) a hair brush, my glasses case and two mini amentiy bottles of Fresh Sugar Lychee Bath & Shower Gel. Oh and my wallet.
Do I need all of these things? No. I'm well aware of this. But the thought of removing anything gives me severe anxiety.
I am so sick of listening to all of my friends complain about how heavy my purse is or make fun of me because I am bogged down in pouches. HELP! How do I downsizes?