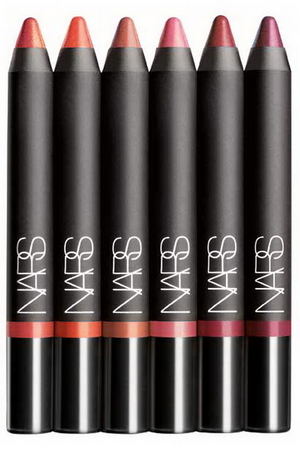 Okay ladies, it's rare that I get so excited about a product that I buy it in every single shade and tell everyone I know about it. NARS has created the ultimate lip product, and I will be stuffing the stockings of every friend and female family member I know with the new NARS Velvet Gloss Lip Pencil this holiday season!
This amazing jumbo crayon-style pencil delivers color, gloss and staying power that is undeniable. It contains Vitamin E for major moisture and has hydrating hyaluronic spheres that make lips appear fuller. It never dries out your lips, and I was able to test it on three occasions and never once had to reapply. Incredible.
My favorite shade so far is Mexican Rose, which is probably the most universal shade of red ever, and even when you try and take it off, it leaves your lips soft and slightly stained. The shade of New Lover is the perfect golden pink that mimics your lips' natural hue, then kicks it up a notch. The hue of Hopi looks great with a smoky eye, and Club Mix is a sheer grape that looks so pretty with a flushed cheek and lots of black lashes. Baroque is a raspberry sorbet that's looks sexy with a black winged cat eye and Happy Days will be perfect with a tan on holiday. Frivolous is a subtle glow for errand days and when you hit the gym. All the shades work for every mood you may have, as well as colors to create this season's best looks.
As an established makeup artist, many beauty brands send me samples of their latest products for consideration. I only write about the items that I truly love and I always abide by Daily Makeover's Editorial Ethics Pledge in each of my Positively Beautiful posts.