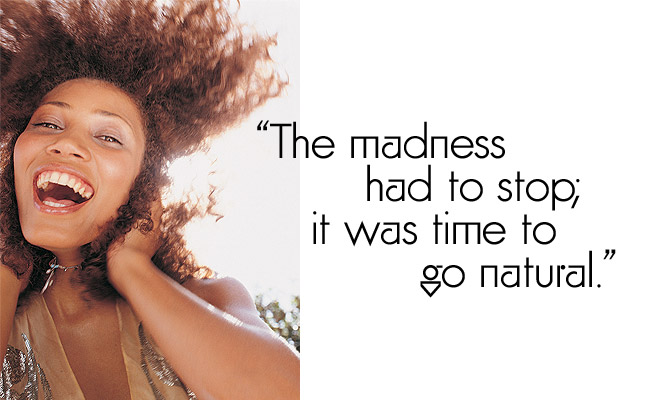 Disclaimer: My hair is not your hair. Everything that works for me may not work for you. But the good news is my journey can still help you through yours.

It has been three years since I last relaxed my hair. Initially it was not a permanent decision. I was experiencing grave breakage from an unhealthy addiction to the "creamy crack," and I felt like we needed some time away from each other. I did not intend to give up relaxing forever, but that was the choice I eventually made.
Top Must-Have Products for Natural Hair
My hair is the finicky kind. When I used relaxers, my hair would become more manageable but not completely cooperative. As per my beautician's recommendations, I should have allowed six to eight weeks in between touch-ups. But neither my hair –nor I– could wait that long. I began putting all those chemicals (like calcium hydroxide, hydrogen peroxide, phosphoric acid) onto my locks every four weeks. Even women who follow the recommended waiting time can experience dryness, thinning, breakage, and scalp burns from these potent ingredients, so of course I experienced the whole nine yards. The madness had to stop; it was time to go natural.
Through my transition from relaxed to kinky, I hated the sight of my thick roots and stringy ends. My quick fix: weaves. I could braid my strands of awkwardness and hide them beneath tracks of human hair extensions — it was an awesome discovery. I could go long and curly one month, and then rock a short bob the next. But the truth was I was avoiding my own hair. I barely saw it. I barely dealt with it. Heck, I even began to miss running my fingers through it. I had to learn to style my own locks, and fast.
Get formal with these 9 Natural Updos
Coming out from under the weaves was actually freeing. I got to wash my hair whenever I felt like it, I worked out more, and it cost me less money. The styling part was no easy task, but one tool that helped me get into the groove was YouTube. If you have just decided to take the natural leap, trust me, the tutorials and information are endless! I learned how to style and care for my hair with a few search terms and some free time. Here are a couple of my favorites:
From two-strand twists to Bantu knots to flat twists, most natural styles are time-consuming, but rather easy-to-do. And if you remember no other principle for your natural hair, keep this is mind: MOISTURE IS KEY. Keep those curls hydrated no matter what.
But above all ladies, if you are thinking of going the natural route, remember that patience is paramount. We wait in long lines for new clothes, risk our safety in sky-high heels, and cause ourselves pain with constant beauty-related tasks — why then can't we spend a little more time and energy on our hair? Go for it!