Hello everyone! Remember when I stepped into the Joseph Witt salon back on March 1st for the first step of my blond makeover?
Well Step 2 of Make Lisa Blond commenced this past Saturday and I could not be happier with the results. I can't wait to share it all with you but first…the process.
Here I am at 9:30 on Saturday morning. It's a little closer than I'd like to get that early on a weekend but what can you do, right? My hair lightened up so much since that first appointment. Actually people had just started to notice my hair maybe 2 weeks prior to my second appointment.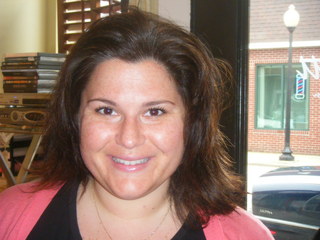 Here is the back view. All nice and highlighted but I still wanted to go lighter.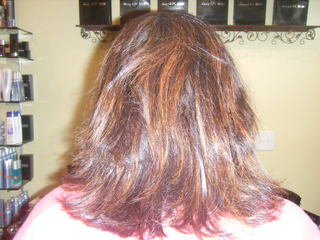 A shot of the salon's plethora of Moroccan Oil products that they sell. As you all know I'm
totally obsessed with Moroccan Oil
We even had Janet Jackson jamming for us on the flat screen. Rythm Nation anyone??
First Joe foiled foiled foiled! He put a lot of blond highlights on the top of my head.
Joe in action.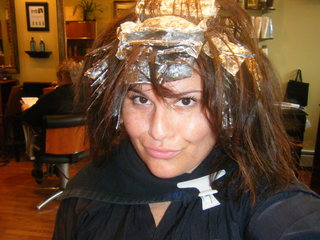 Final shot of the foils before they get taken out!
Aerial of the color. It's so funny how a stylist can see your hair wet and be like "Oh my God that looks so amazing!" Obviously they can tell because they are the professionals but I was just like "Ok. Cool…." and was totally itching to see it dry.
Let the blow dry process begin! Joe wanted me to keep my eyes closed through the entire process so I'd be super surprised with the color.
Check that out. How amazing of a shot is that? The colors and textures are just fabulous.
Still diligently keeping my eyes closed tight!
So I would have to say that Step 2 of Make Lisa Blond was a huge success. I'm so close to becoming caramel I can taste it! My next lightening appointment is May 9th. I will be sure to keep you all posted as to how light my hair gets in the coming weeks. And make sure to stay tuned for my blog on Step 3!