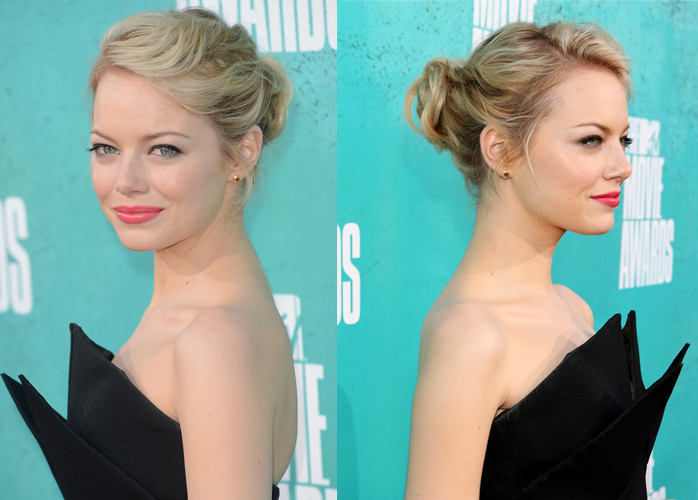 Emma Stone certainly rocked the MTV Movie Awards last night, winning the first Trailblazer award and delivering quite the heartfelt acceptance speech (a long list of Hollywood stars listed why Stone deserved the award before she came to the stage, and we couldn't have agreed more). Stone not only impressed us on stage, but she had already wowed us on the red carpet with her beauty look.
Her hair, which was done by celebrity hairstylist Mara Roszak, was one of the best looks of the night — described by Roszak as a "textured, twisted updo." Roszak got the look by using a combination of Clairol Professional, Sebastian Professional and Wella Professional products. Roszak said she "wanted the style to feel like a twist on a simple updo with strong elements of fun and femininity."
To get the look yourself, follow these steps:
1. Begin the style by washing with Clairol Professional Shimmer Lights Shampoo and Conditioner (this will enhance the brightness and vibrancy of blonde hair).
2. Apply a golf ball sized amount of Sebastian Professional Mousse Forte to the lengths of towel dried
hair.
3. Loosely twist random 1-inch sections of hair towards the back, bobby pin in place, and blow-dry. Once
the hair is dry, remove the pins and let the twists fall out.
4. Emulsify a dollop of Wella Professionals Texture Touch in palms and apply to the lengths of the hair
for added texture.
5. Then twist the hair on either side of the forehead, connecting at the back of the head. Bobby pin the
twists in place, criss-crossing the pins to ensure a secure hold.
6. Gently tease the rest of hair and pin it up into a messy bun, allowing pieces to fall out naturally.
7. Finish the style with a spritz of Wella Professionals Stay Firm Finishing Spray.
Images via Getty/ Christopher Pollock