It was a lunar-centric look backstage at Macqua on Thursday. MAC makeup artist Kabuki created a dramatic look that was inspired, like the collection, by the moon.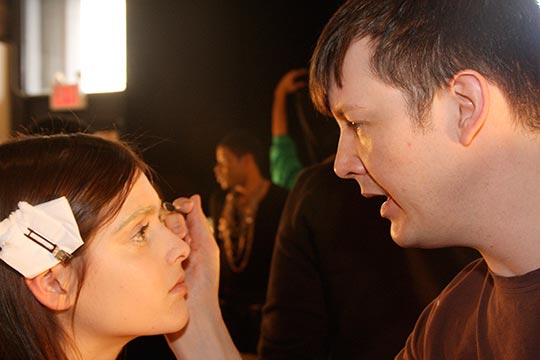 Photo: Nathan Bush
"We're concentrating on the skin," said Kabuki. "It's a medieval ivory face –very pure and minimal."
He used Studio Sculpt Foundation for a satiny and slightly matte finish, then applied a pearl frost cream to add luminosity, or "a moon glow," to the cheekbones and bridge of nose.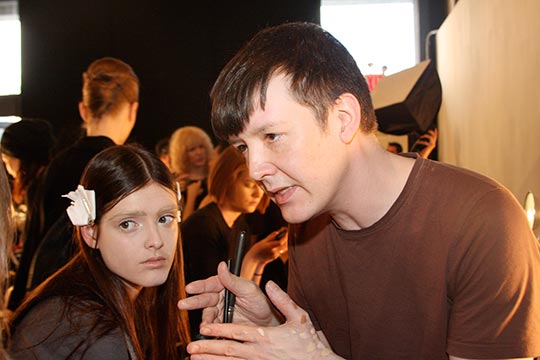 Photo: Nathan Bush
Lips were done with a muted ginger and a thick coat of glassy gloss was added just before models hit the runway.
The eyes were soft with flesh-toned shadows on the lids a dab of white frost on the inner corner of eyes. Kabuki muted out the lower lashes by using a flesh-toned liner on the inner rim and on top of the lashes themselves. Brows were also muted out with a mix of Bare Lash Mascara and thick concealer.
Redken stylist Staci Child kept hair straight and simple. "The makeup is really strong so we just wanted to frame it with something nice and natural," she said.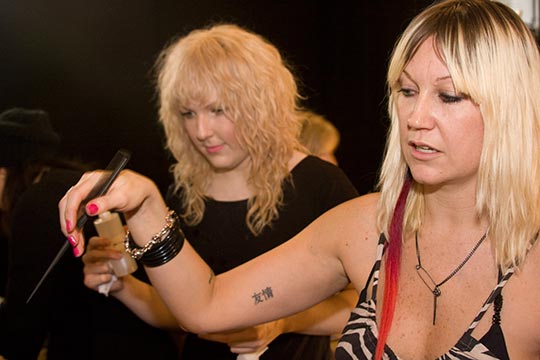 Photo: Nathan Bush
Hair was parted down the middle and sprayed with Fabricate 03 Heat-Active Texturizer and Guts 10 Spray Foam, then blow dried forward at the front.
She sprayed hair with Iron Silk 07 Straightening Spray and ironed it, creating a curtain of smooth hair that draped the face.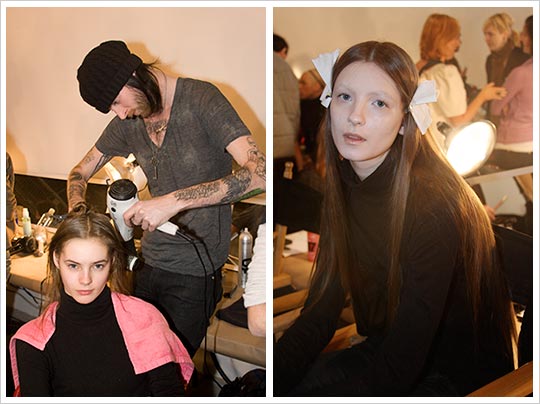 Photo: Nathan Bush