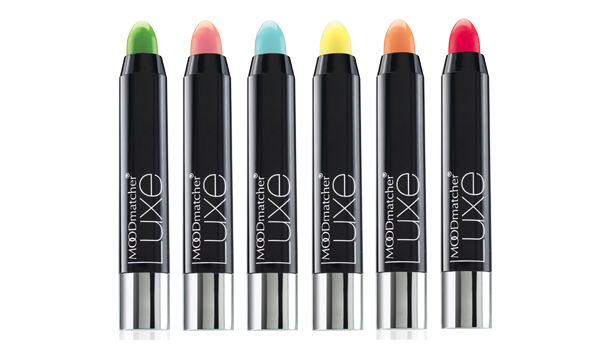 There are plenty of things from our childhoods that we've pushed into the way backs of our heads, but we'll happily hold on to the memory of mood rings. They were a defining accessory of our youth: After all, could anything really be cooler than jewelry that purported to change with your mood, subtly alerting those around you to your capricious temperament, from bored to happy to sad and back again?
We may have left our mood rings back at mom's house (where they were likely tossed promptly into the trash) but there's still a place in our hearts for the concept. And you know what? We're not alone. Far from it, in fact—the "mood-changing" "technology" (healthy skepticism!) is alive and well, and it's made its way into makeup. We were tipped off to the situation by Moodmatcher Luxe Twist Sticks, which recently came to our attention as a line of super moisturizing, high-quality matte lipstick at an affordable price point, with one major difference: All six of the shades, from the innocuous pink to the unexpected pale blue, transform on your lips to, yes, "match your mood."
True, we're partial to the Moodmatchers (for their 12-hour staying powder and majorly hydrating properties courtesy of aloe vera and vitamin E), but they're only the tip of the iceberg as far as mood-matching makeup goes. We suspect the throwback trend has been lingering beneath the surface of the beauty world for a while, but more and more (and more respectable) brands are getting in on the fun, with everyone from Lipstick Queen to Givenchy trying their hands. Interesting.
We still don't know how, exactly, any of this works, but we're more than happy to live in ignorant bliss. We've heard it has a little something to do with body temperature, but we prefer to think of mood-changing makeup as just that: mood-changing magic. Don't mind us if we seize the opportunity to inject a little bit of childlike wonder into our lives (and beauty routines) whenever possible.
Read more from Daily Makeover: Hair Trends from the '00s We're Glad Are Over