Molly Sims has served as hair inspiration for her long blonde waves for quite some time, but the model/actress recently changed things up by going red.
"I wanted to do something really different. I just didn't want to cut it. It was either cut it or color. I wanted to cut it, but I didn't want to do what everyone else is doing." And what everyone else is doing is getting a pixie.
When it came to celebrity inspiration for the look, Molly said, "I think Amy Adams was our top [choice for inspiration]. She tends to go from darker to lighter reds. I love Julianne Moore's, but she's a little bit deeper, which I might experiment with. But I'm really happy. I love the highlights coming through."
The makeover was, in part, designed to help spread the word about Nexxus' new Color Assure line. One of the coolest products in the line is designed to be a primer before you wash your hair.
"The first time she washes her hairs she's going to use the Nexxus Pre-Wash Primer  ($18.49, walgreens.com) which helps to seal the vibrancy of the red in and lock out the water," says colorist Aura Friedman. "Water is one of the biggest villains for hair and it tends to strip out color."
While Molly loves the makeover now, she said the decision wasn't an easy one, in part because her job demands approval from managers and agents before any big hair changes. "It was like a big conference call, I'm not gonna lie. We did the pros, we did the cons, but everyone wanted a change. Ultimately they were like 'We don't care.' But everyone was really on board which made me feel better. I used to be jet black when I first began modeling, so when I was going to go blonde they were like 'Don't do it! It's going to ruin your career,' and I was like 'Well I'm doing it.'"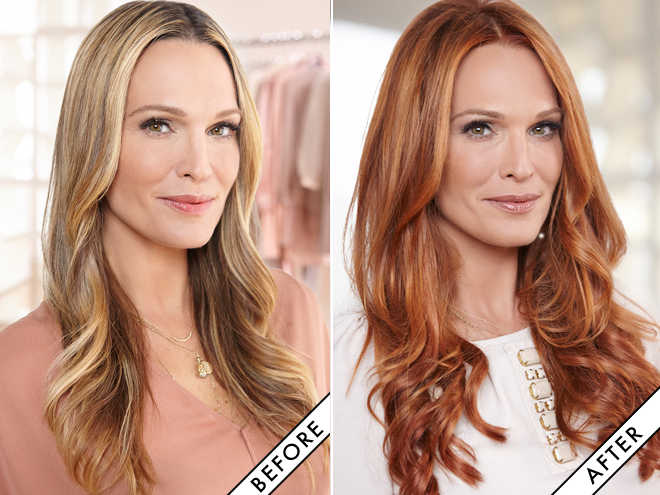 Read more: How to Find Your Best Shade of Red Hair