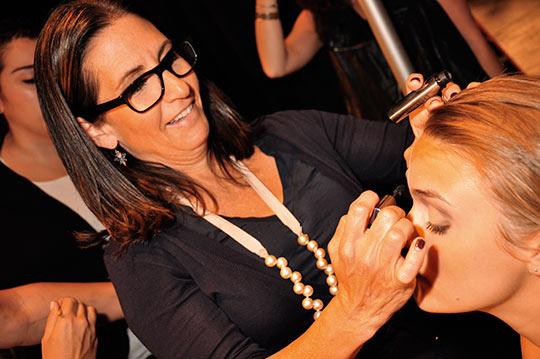 Makeup Legend Bobbi Brown
Photo: Nathan Bush
The super 70's made a comeback backstage at Rachel Roy thanks to makeup legend Bobbi Brown.
Brown left the disco glam and glitter at the door, instead opting to adapt the retro shape of the eye shadow application in modern and accessible colors. She used a warm, flesh tone shadow on the lids, then blended Eye Shadow in Flint in the crease and into the inner and outer corners of the eye, extending it to a little bit below the lashline.
Brown used Creamy Eye Pencil in Jet to line the entire top entire eye, then curled lashes and used Extreme Party Mascara, a new product that launches in November, to enhance models' lashes. Brows were given a coat of clear brow gel for a natural, not super-defined brow.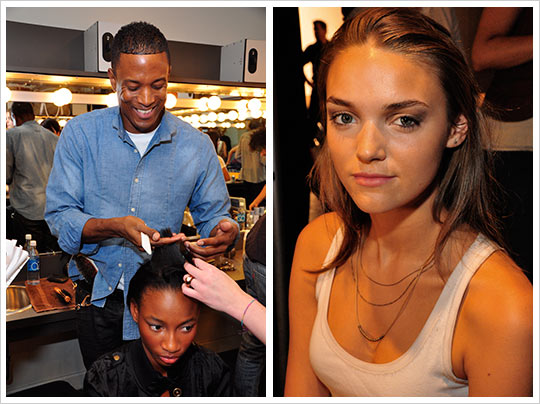 L Andre Rodman for Frdric Fekkai R The final makeup look
Photo: Nathan Bush
The whole look was devoid of shimmer — Brown opted to keep everything flat so as not to be too literal in the 70's inspiration. Skin was very clean with concealer being used where needed. Foundation and powder were also applied to tidy up the skin. On the cheeks Brown used a bronzer high on the cheekbones, "almost where you can't see it," she said. To make the look spring-y and give it a subtle pop of color she used Guava lip color, another new shade for the season.
Frdric Fekkai lead stylist Andre Rodman kept the sophisticated retro theme going with an "old Hollywood glamour" look for the hair. He created two different styles — one for short hair and one for girls with longer locks. For the long-haired models, he loaded hair with Coiff Strong Hold Volume Mousse and created a center part. He then curled hair from the chin down around a 1-inch barrel curling iron to create glam waves with smooth roots.
For short-haired girls he created a masculine, yet equally glamorous look by combing Au Naturel Sheer Styling Gelee straight through the hair and creating a severe side part that was tucked behind the ears.