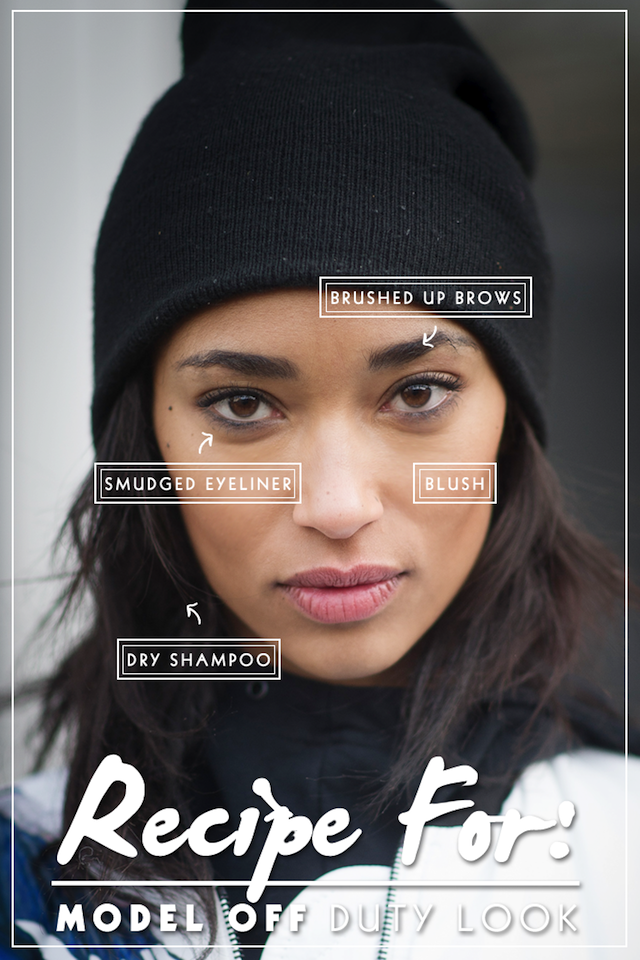 The cool factor that comes with the model off duty look is almost unfair to us normals, but that's half the reason we try to recreate this look. The second half, though, is because with seemingly no effort, models who are off duty look simultaneously put together and as if they couldn't be bothered to worry about their hair and makeup. Whether they're coming from a photo shoot or heading to brunch with friends, the look is simple and chic.
Above is one of our favorite model off duty looks, combining smudged, smokey eyeliner and texturized hair dream of. Below are a few tips on how to get the look!
Smudged Eyeliner: Grab your eyeliner (kohl works best), and begin by lining your upper lash line. Don't worry if the line isn't perfectly straight, because you'll be smudging it anyways! Next, take a smudge brush or cotton swab and smudge out the liner, starting from the inner corner of your eye and working your way out. Now go ahead and line the bottom lash line. Take your brush again and smudge out the liner on your bottom lash line. To clean up any areas where the liner went awry, simply take some concealer and clean up those unwanted smudges!
MORE: 5 Must-Know Tips for Using Dry Shampoo
Dry Shampoo: Give your tresses some texture by sprinkling (or spraying) some dry shampoo into your hair, working your way down from the roots to mid-shaft. Not only will the dry shampoo remove any excess oil in your hair, but it will also add volume and texture to your locks!
Blush: To add some warmth to your skin and to prevent the smudged eyeliner from looking a bit harsh, it's important to add a hint of blush to your cheeks. Just a touch on the apples of your cheeks is all you need.
Brushed Up Brows: The final ingredient in this recipe is the brushed up brow. Brushing up your eyebrows, rather than filling them in to perfection, creates a more natural and youthful finish. The raw, almost undone look of the brows pulls the whole look together flawlessly.
Image via Imaxtree