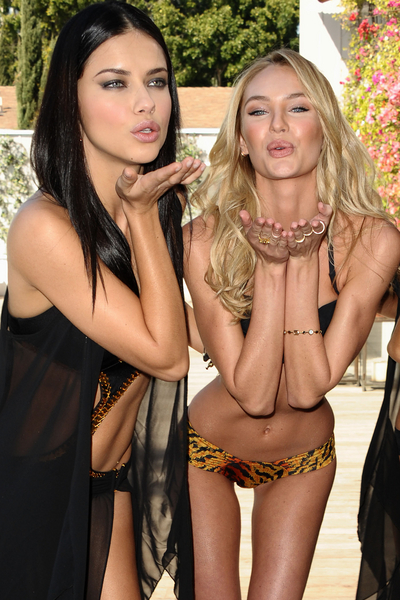 Photo: © Jason LaVeris/FilmMagic
When we saw this picture of Candice Swanepoel, it made us concerned: The once stunning Victoria's Secret model looks emaciated compared to co-model Adriana Lima. This startling weight loss has us worried about the 22-year-old blonde beauty's health.
Painfully thin models aren't necessarily a new topic in the fashion world, but recently they've gotten a lot of press, mostly because of watchdog agencies that have been charged with policing these young girls and their weight.
In an industry that promotes skinniness, these new task forces seem like a great idea in theory–a way to make sure that models don't give into the relentless pressure to be thin and wind up hurting themselves. Unfortunately, in practice, they end up putting even more negative focus on women's bodies.
A recent article in Britain's Telegraph reported that the Advertising Standards Authority had cleared fashion brand Miu Miu of allegations of irresponsible advertising for using a super-skinny model in the brand's Spring 2011 ad campaigns.
In their investigation, everything from the model's arms to her collarbone was scrutinized and discussed, breaking this young girl down into body parts to be analyzed and judged. While we applaud agencies that want to help promote positive body images in women, the fact remains that they are putting even more negative emphasis on their bodies with the way in which they are doing it.
Furthermore, why is it socially acceptable to judge a woman solely on her body? We agree these women don't look healthy, but when did it become ok for the world to discuss and pick apart their bodies ad nauseam? We want the fashion world to promote realistic figures, but tearing down models and judging their bodies isn't the way to do it.
What do you think, are these agencies helping or hurting women?