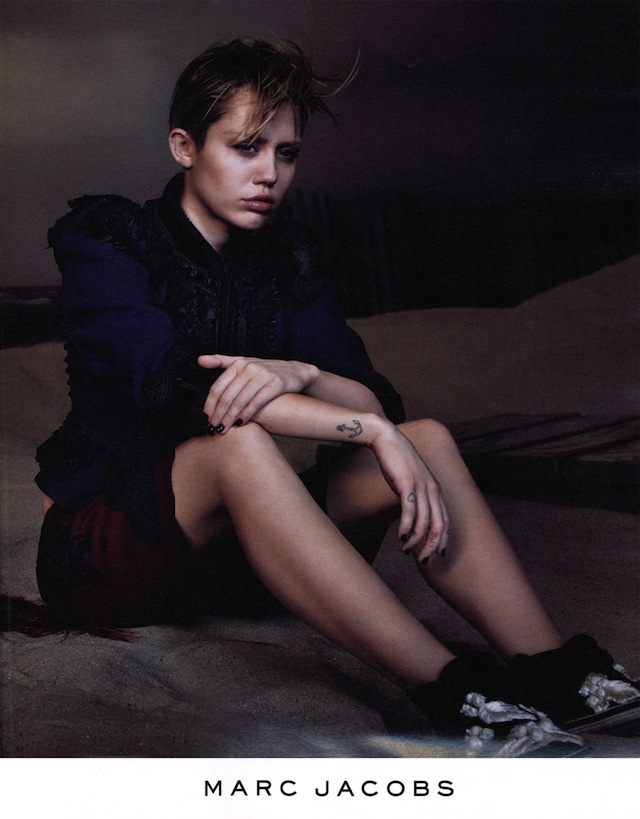 If you pay attention to Miley Cyrus' Instagram account (she's got 8 million followers, so there's a good chance you do), you'd know that the singer is not only a pretty big fan of Marc Jacobs, she's also a friend of his. So, it should come as no surprise that she was just announced as the face of Marc Jacobs for spring 2014.
In Miley's Marc Jacobs ad campaign, above, the superstar is pared down and androgynous, but we couldn't help but notice there were a few things missing from the picture:
MORE: Miley Cyrus Shows Us How to Really Grow Out a Pixie Cut
1. Her tongue: Never one to keep her mouth closed, Miley's tongue is noticeably absent from her Marc shot.
2. Her blonde hair: Is this the beginning of the end? Did she let her blonde hair grow out? Did she dye her hair brown? We've got so many questions.
3. Her talon nails: Sure, she's wearing black nail polish, but Miley's typical long, talon-like nails are nowhere to be found in this shot.
4. Her red lipstick: She may not be known for ever-red lips, but the girl certainly likes the color crimson. All that's here is a trace of some lip gloss.
What do you see see missing from Miley's Marc Jacobs ad? Sound off in the comments below!
Image via Marc Jacobs