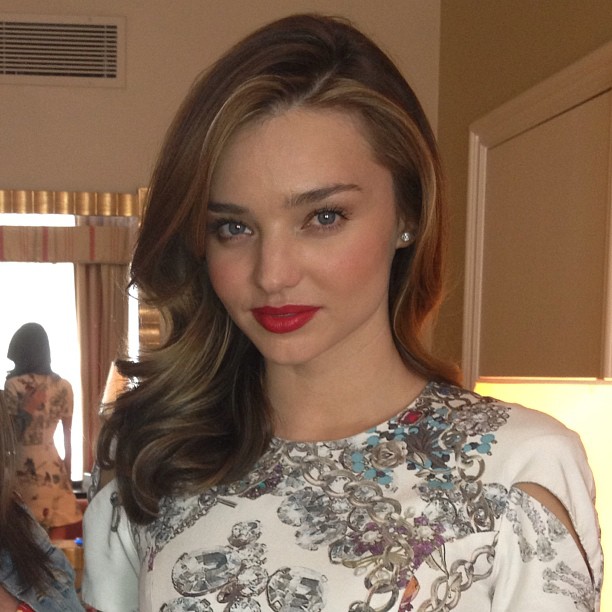 It's hard to deny Miranda Kerr's natural beauty, and it's even harder to deny her beautiful heart. The supermodel mom turned beauty product developer has added some do-gooding to her usual schedule of yoga, finger painting with her son Flynn and strutting down runways. Miranda recently teamed up with Gillette Venus, and together they've been hosting events across the United States to support the Step Up Women's Network, an organization dedicated to igniting women and girls to fulfill their potential. This week, Miranda and Venus hosted the "Step Up & Step Out" event in Times Square, where girls could get full makeovers, try on dresses courtesy of Rent the Runway, and walk the event's blue carpet. For each step walked (and for each tweet with the hashtag #StepUp), Gillette Venus is making a $1 donation to the Step Up Women's Network. After the event, we caught up with Miranda to talk about the secret to her perfect legs, her seven minute fitness plan, and the "cheat day" food she can't get enough of.
Beauty High: Can you tell me a about your partnership with Gillette Venus and what you're doing with Step Up & Step Out? 
Miranda Kerr: So, Gillette Venus and the Step Up & Step Out tour is something that I'm proud to be involved with because it's about encouraging women to be confident in themselves, in their own skin and feel good about themselves especially for summer, and it gives women the opportunity to have a little makeover and get to experience what it's like going on the red carpet. It's a little bit of fun for people that may not ever get the opportunity to do that.
When it comes to prepping your legs for summer, do you have any skincare routines? 
I would say that body brushing (with a dry brush) is something that I really believe in and I do it myself every day. I love the way it stimulates blood flow and increases circulation and exfoliates at the same time. Also, Kora Organics Body Exfoliation Lotion is another one of my key products. So exfoliating your skin, face and body is a great way to help it glow. Using a great moisturizer and then obviously having a great razor like the Gillette Venus is a wonderful way to have smooth legs.
As far as leg workouts, what are some that you find really effective for getting your legs ready for summer? 
Squats, when done properly, and lunges and calf raises.
Do you have any strange exercise programs, or do you stick to what you like? 
Well, I practice a lot of yoga and something that I like to do is just put the music on and I can do some yoga poses and some stretches, but if you hold plank pose and hold that for a good seven minutes, it's a really great way to tone your whole body. What I do is put on the music and then…well I'll have to just show you quickly. [Ed note: Miranda stood up from the couch we were sitting on and began demonstrating three variations of a plank pose: one traditional plank, one plank for the obliques, and one plank with stomach towards the sky] You are getting a whole body workout that way. I really believe that honestly every body is different, so you have to find what works for you and stick with it, really.
On the days you're dreading exercising, how do you motivate yourself to workout? 
Well, I put my legs up the wall, which kind of gets the blood flow going and reenergizes the body. And then after I do that, I put on the music and do a few squats, even if it's just for 10 minutes. Or I do yoga poses like sun salutation and the back bend because it's a heart opener.
What do you usually listen to when you workout? 
Well, it depends because if I'm going to do that plan then I play upbeat music but if I'm doing sun salutation then I have a little yoga mix. I quite like my iPod. It's not one specific song, it's quite a mix, it's quite eclectic. People generally like my iPod because they don't get bored.
Do you have a self tanner you use to keep your legs looking sunkissed year round? 
I'm naturally a bit tanned. So these days, you know a little bit of sunshine is good for the soul, but I love a big hat, especially to protect my face. We also have a tinted moisturizer at Kora Organics which has SPF 15 in it.
Do you have any beauty tips you'd recommend to girls for summer? 
My routine is cleanse, toner, moisturize. Dry body brushing and exfoliating is important, Rosehip oil is really hydrating and full of vitamin C and antioxidants and essential fatty acids. Lots of water and cold pressed organic green juices. I'm not about being strict with diet, it's all about having a balance. You shouldn't deprive yourself.
So, with that being said, what's your favorite cheat day meal? 
I don't have a specific thing, it depends on the day or the mood but I do like salty caramel chocolate. Every now and then a French fry. I try to avoid eating those foods on a regular basis because I know it makes me feel sluggish – nothing else. It's not a matter of counting calories, it's about thinking how you're going to feel afterwards.
Image via Instagram 
More Celebrity Beauty Secrets From Beauty High:
10 Summer Beauty Tips From the Victoria's Secret Angels
101 Celebrity Beauty Secrets to Steal
10 Stars Reveal Their Surprising Secrets to Looking Younger