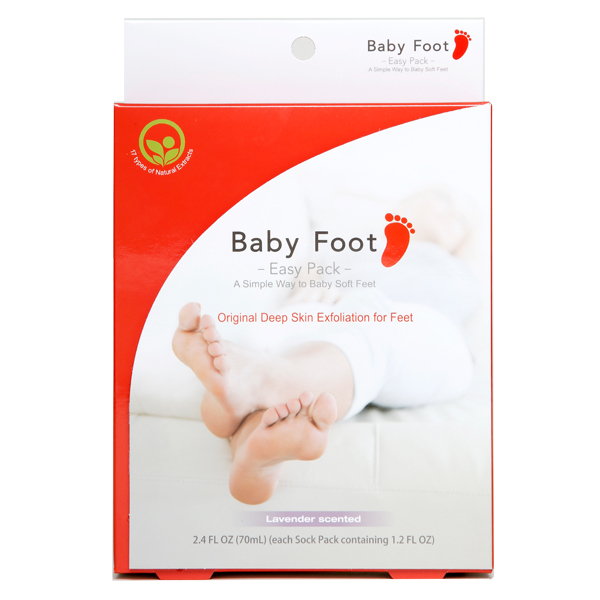 As gross as the term "dry, cracked feet" is, it totally applies to me. I live for spa pedicures, because for a day or so after, my feet look and feel soft and smooth, instead of callused and rough. The problem, however, is that the results don't last long enough. And as much as I try to maintain them with foot scrubs and walking in socks versus bare feet, my gross hooves make their return.
This is where my hero product comes in: Baby Foot ($25, beautysage.com). I saw photos of the product's effects, and I was mesmerized. Imagine a snake shedding its skin. I knew I had to try it.
The box contains a pair of gel-filled plastic booties that you step into after washing your feet, and you keep them on for one to two hours. Once the time is up, you wash your feet off and wait. And wait. And then you wait some more. It takes anywhere from three to five days for your feet to actually start peeling. It took mine five days, and at first the peeling was so minimal, I thought I had done the process wrong. The next couple of days, however, is when the product really went to work. Layers upon layers of my dried out skin started falling off my feet. And it wasn't opening up raw, fresh skin. Instead, it was revealing perfectly soft toes and heels.
While the peeling process wasn't pretty, I was able to hide my feet for the most part with close-toed shoes. The only embarrassing moment I ran into was during a barre ballet class when I forgot about my latest beauty experiment and went barefoot. Not cute!
While the peel didn't completely remove my calluses, it made them completely unnoticeable and perfectly smoothed over, and I'm still enjoying the results almost a month later.
Which product do you swear by?