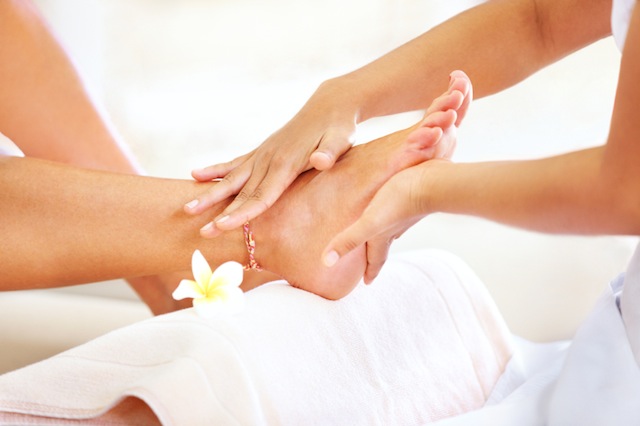 We had the chance to take our feet out of their permanent hiding spot in their suede, wedge booties and treat them to a "Currant Affairs" Pedicure at Eve Salon – perfect timing for our winter getaways. During our pedicure,we were given the lowdown on black currants, which is convenient since we can honestly say we had very little knowledge of this fruit besides for that it looks like one of those berries that you're not supposed to eat. We were informed that black currants are filled with fatty acids, antioxidants, phytonutrients, vitamins and minerals that most people would benefit from by consuming orally. But, even by coming in contact with your skin, black currants can relieve your feet of stress and infuse the skin with vitamins and minerals.
One of the first steps of the pedicure consisted of your feet being exfoliated with a Black Currant Sugar Scrub. After a deep exfoliation, your feet are left feeling extra soft and smooth. Then, the Black Currant Body Butter was brought out and lathered onto your skin – truly topping off the experience.  Both  the scrub and body butter had a rich, comforting smell that reminded us of the holidays.
So, while you may be convincing yourself that your love is a good enough gift for your friends and family, it's probably time to step it up a notch this year. Give your special ones the gift of relaxation this year and set up a 45 minute treatment for $40, but since it's only available for a limited time you might want to get to it!
Eve Salon, 55 W. 8th St. NYC, evesalonnyc.com
[Image via Istock]