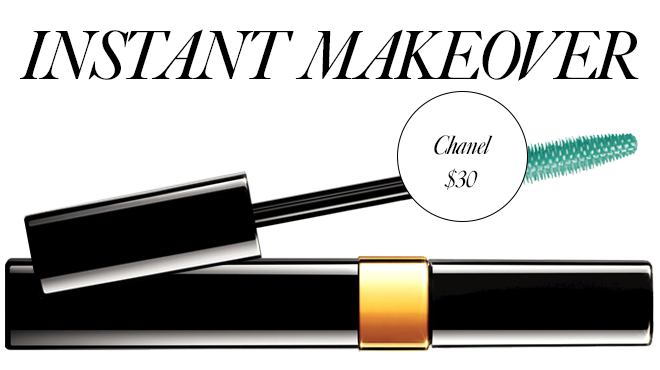 Occasionally we come across a product that bestows an immediate glow, changing our look (for the better!) in an instant. Since we'd be remiss to keep them to ourselves, we highlight these genius finds in our Instant Makeover series.
You know bold color is going to be big this summer when Chanel — whose seasonal beauty offerings have a track record of selling out — includes mint green and yellow mascaras in their summer makeup collection. I admit I wasn't daring enough to attempt the bold yellow, so I thought I'd give the mint shade, Lime Light ($30, chanel.com), a try. The formula, which is both volumizing and lengthening, provides similar results to other Chanel mascaras. But the color gives a subtle effect that's unlike anything else in my makeup bag.
My favorite way to wear this mint mascara is by first applying black mascara at the root of my lashes, and then adding Lime Light on just the tips. The color contrast between the black and green makes lashes look longer and, when paired with a cream shadow that has a slick, shiny finish, adds dimension to your eye makeup in a way that's totally wearable. The shade works with all eye colors, but will really brighten brown eyes.
Although mint green mascara might not work for every occasion, it's an easy way to add color to the eyes if you're not handy with eye liner and want subtler color than a bright eye shadow.
Read more: Instant Makeover: Mascara You Can Reapply Without Clumps