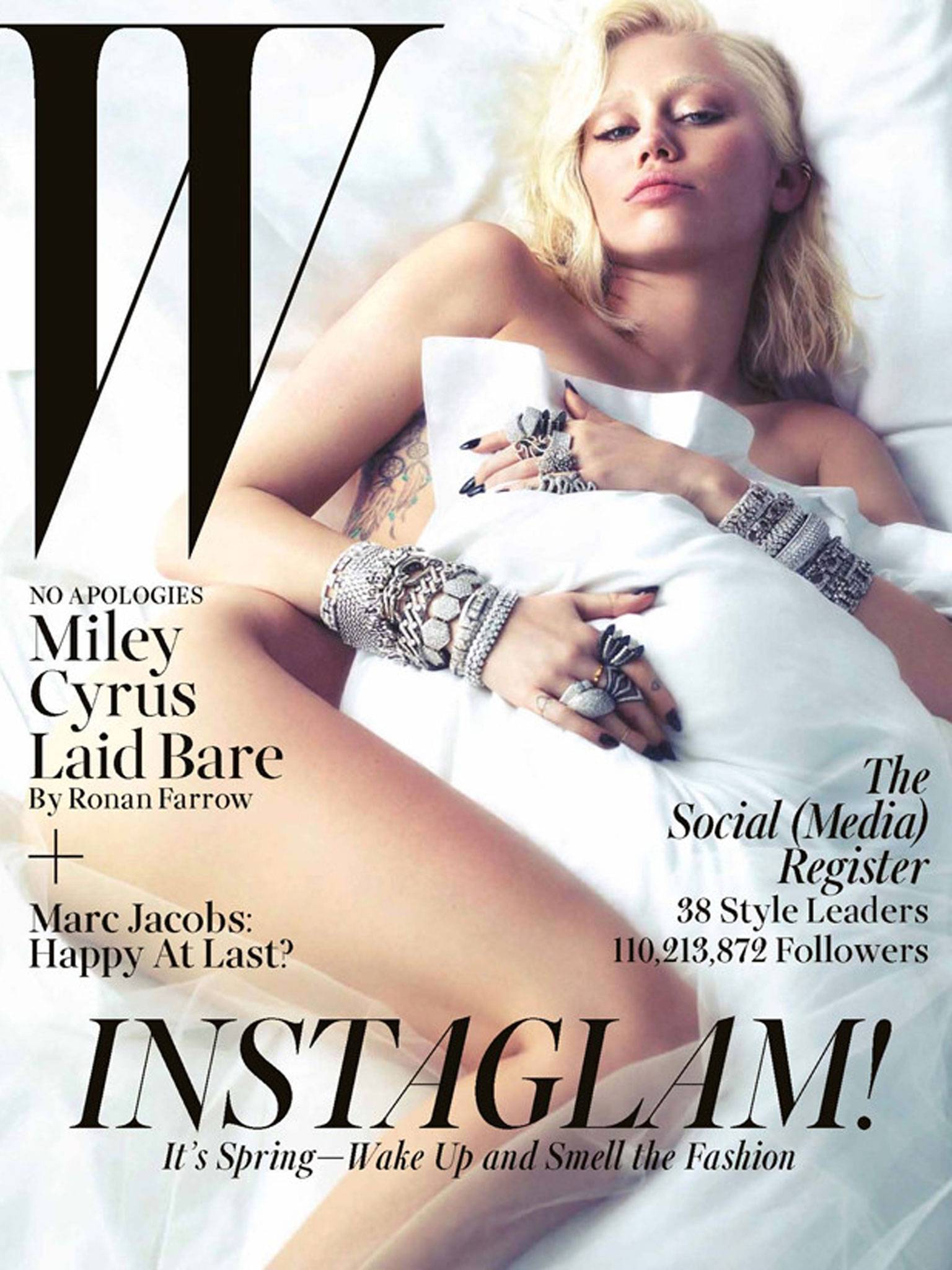 From the moment Miley Cyrus' W Magazine cover came out, the world has not been able to keep quiet about the singer's chic, daring look. With bleached brows, platinum hair and black talons, Miley's look is simple yet bold, as she's planting her foot even more firmly in the fashion world (as if her Marc Jacobs campaign wasn't enough).
The cover instantly sent everyone into a frenzy, and we needed to know more, so we went straight to Lisa Jachno, the celebrity manicurist responsible for the dark manicure on Miley. Lisa explains why she chose black nails in an otherwise pale shoot, plus what the deal was with the bleached brows. Read on below!
Beauty High: Why'd you go with black polish when the rest of the shot was so clean? 
Lisa Jachno: Everything's so pale, but they wanted to give an edge to her look. Miley came in with long nails already, and they were red, and they were gel polish and acrylic. I couldn't take off the polish without taking off the acrylics, so that's why we chose black over a nude or anything else. She was so cool, she said, "You guys do whatever you want." This was a total makeover for her. I used two coats of Chanel polish in Black Satin.
MORE: What's Missing From Miley Cyrus' Marc Jacobs Ad
And as far as the bleached eyebrows, what can you tell us? 
Once everyone saw this cover, they all kept saying, "Is that really Miley?" I remember she had Instagrammed a picture of the bleached eyebrows after the shoot, and everyone was commenting saying that she looked like an alien, but I think she looked great. You just have to go with what the photographers [Mert Alas and Marcus Piggot] want, and trust they know what they're doing. They wanted a tough, pale look. Working with them is just amazing.
What's your favorite part about working with Miley? 
Her energy was so refreshing, and just the excitement she has. I worked with her when she was a Disney girl, so to see her blossom into this amazing young woman, so grounded, and strong in her beliefs is amazing. She's taking charge of her life in a good way. She's getting out of that "goody two-shoes" persona and taking charge of who she is.
Image via W Magazine