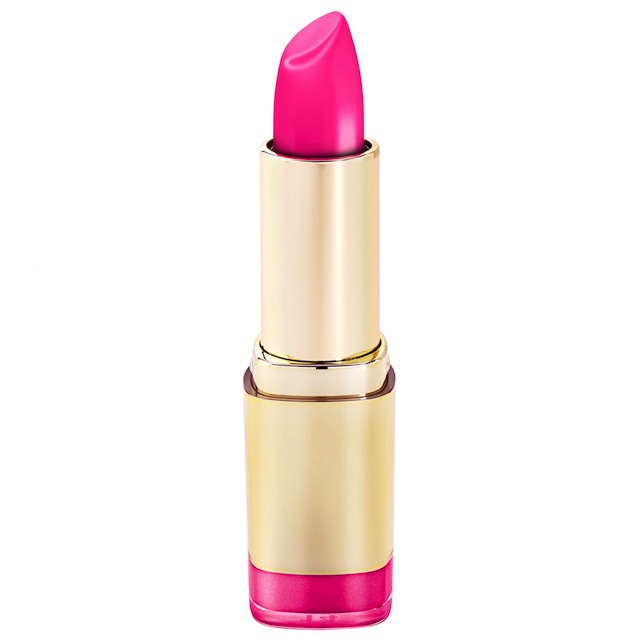 At Beauty High we constantly have new products crossing our desks and are always on the hunt for the next best thing. "The One Thing" is our way of sharing with you that must-have product that you need to introduce to your lives right now, whether it's from a drugstore or a department store.
We all know that all lipsticks are not created equally. Some are frustratingly drying, don't offer enough color (yes, the shade reads "Peachy Keen", but give us something!), while others are just plain underwhelming. However! When you find a shade, or better yet a whole line of lipsticks, that works for you, it's like the makeup Gods have released the gospel. Milani's Color Statement line is just that, with classic hues like cherry red to trendy ones like deep chocolate, that are all formulated so lusciously, it only gets better because the price point will cost you less than $7. Get ready to once again have all eyes on your pretty pout (and brave-enough-to-ask on-lookers, "what shade is that?).
MORE: The One Thing: Real Technique Brushes
What Makes It Different:
The color payoff is amazing. What you see at the bottom of the tube is exactly what you'll get. For once, the picture of the shade matches the shade you swipe on.
The texture (that is paraben-free!) is creamy enough to slide on with no effort, yet steady enough to not need multiple touch-ups.
It has a surprising (and fun) scent that lightly recalls bubblegum or watermelon, which is a nice change from the former floral in its previous line.
With 30 shades to choose from, there's a color for everyone and because the texture is so pleasing towards maintaining soft lips, you might actually want to try "Sweet Nectar" (think: orange creamsicle) or "Violet Volt" (a metallic lavender).
Lips will carry a natural dimension due to the potency of color, and it's also graciously hydrating.
Why It's The One Thing:
It's our latest One Thing because it epitomizes beauty for a bargain. For a brand that is sold exclusively to beauty supply and drugstores, it impressively holds its own against some of the most expensive ones. Seriously, this lipstick is great, and if you're a lover of this makeup staple, it's time to show Milani some love because your lips are going to crave wearing this!
Where to Buy: Milani Color Statement Lipstick, $5.49, at milanicosmetics.com