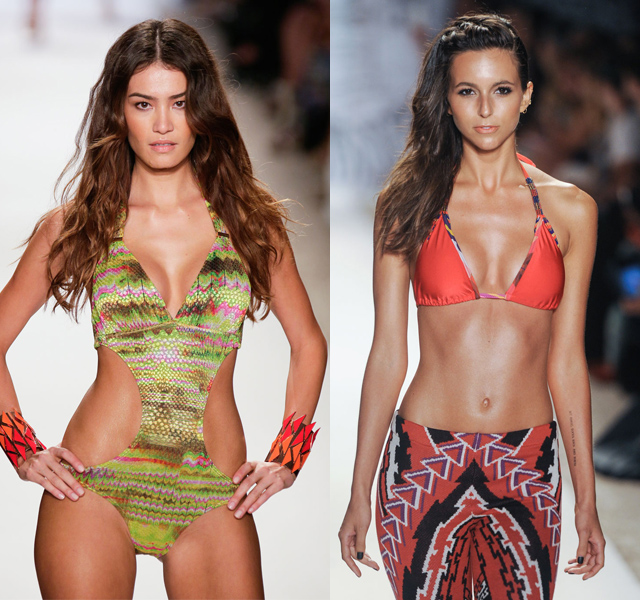 You've probably scoped out backstage Instagram pics and read designer interviews hot off the Mercedes-Benz Fashion Week Swim runway, but have you ever wondered what goes into producing the shows? We're talking about the nuts and bolts, er, lipsticks and bobby pins that are responsible for making the 5-day parade of glitz and gams happen.
This year, we tapped the designers' makeup and hairstyling teams and asked them to give us the skinny on the products they used. From cans of extra firm mousse to rainbow-themed wigs, we left no bottle of hairspray unturned. Here, everything – and anything – used, by the numbers.
20: Amount of runway shows that took place at The Raleigh, Miami Beach.
500: Number of Zico Coconut Waters kept on ice at all times.
21: Uneaten Krispy Kreme donuts spotted backstage at the Agua Bendita show.
30: Number of Smashbox Halo Highlighting Wands the makeup team estimated they would go through by the end of the week.
1: Number of seconds stylists had to wait for the Babyliss Pro MiraCurls tool to hit 450-degrees at the CM Cia.Maritima show.
150: Bobby pins used by Brian Hawkins and his team to create fishtail buns at the Poko Pano show.
400: False eyelashes applied by Lori Taylor and the Smashbox team throughout the week.
300: Fingers and toes perfectly painted in Zoya Nail Polish's Purity for Suboo.
12: Candy-colored wigs worn by licorice-eating models at Betsey Johnson's vibrant swimwear launch.
3: Smashbox Eye Shadow Trios in Electro used backstage at the Mara Hoffman show.
65: Number of cornrow designs braided into models' heads by Sonia Castleberry and the Oribe Hair Care team for the Dolores Cortes show.
20: Specially made spike-adorned barrettes worn by models at the Agua Bendita show.
1,134: inches of hair extensions used by TRESemmé stylist Tyler Laswell at the Beach Bunny show.  (Take that, Rapunzel)
14: Middle East and African-sourced camel decorations used by Nick Irwin for Catwalk by TIGI and the styling team at Mara Hoffman.
256: Ounces of TRESemmé Keratin Smooth Heat Protection & Shine Spray used at Beach Bunny.
6: Smashbox Photo Finish Bronzing Foundation Primer used at Poko Pano.
Images via Imaxtree