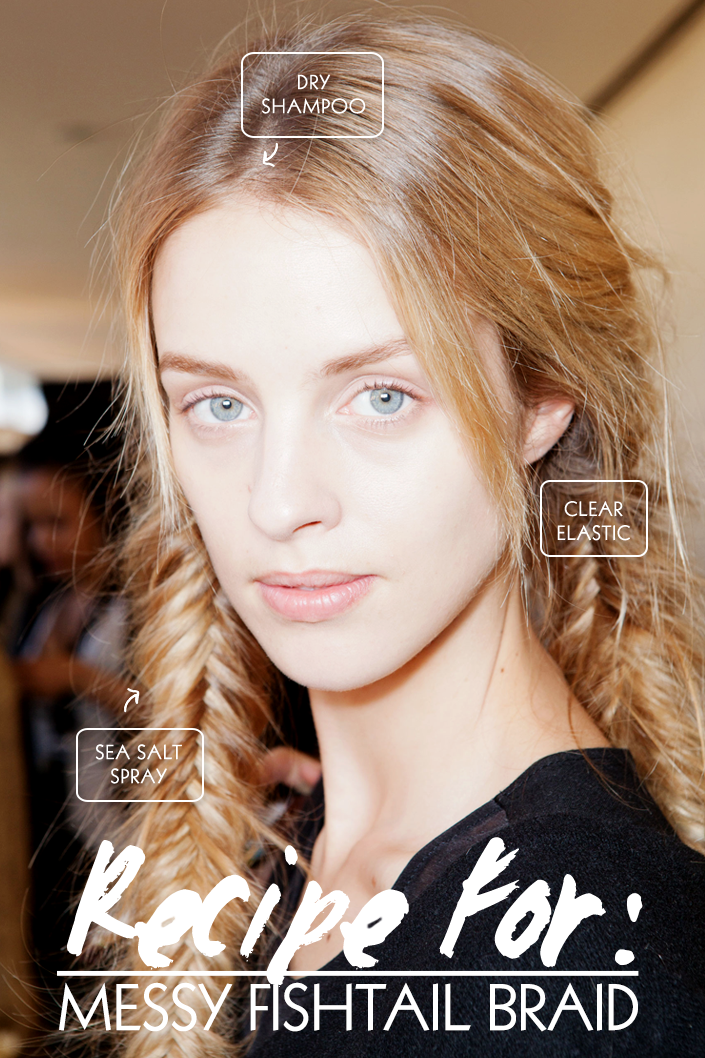 As much as we love a good fishtail braid, we have to admit that we love a messy fishtail braid even more. There's something very downtown chic about having just enough texture and volume in your braid for it to not be perfect, and we love the cool vibe that it gives the hairstyle.
Because a messy fishtail braid is an amazing hairstyle idea for the holiday parties you'll undoubtedly be attending this year, we've laid out the recipe for getting the look. Below, learn how to get a messy fishtail braid (but be warned: Your friends will want you to recreate the look on them).
MORE: Fishtail Braid How To: 10 Best Tutorial Videos on YouTube
Dry Shampoo: To give your roots some piece-y volume with a bit of a gritty feel, spray in dry shampoo. Lift up the top layer of hair and spritz onto the root, then comb through with your fingers once it's dry. Pull the product through your mid-lengths so that your hair isn't clean or slippery. Having product in your hair will help the braid to hold in place.
Sea Salt Spray: Concentrating on the mid-lengths to through the ends of your hair, spray in sea salt spray to give your hair a bit of body and texture, plus just a hint of hold. Beginning with a beach wave, messy texture will give you the best foundation for a messy fishtail braid.
Clear Elastic: One simple way to cheat at the fishtail braid is to put your hair into a side ponytail with a clear elastic, then separate that ponytail into two separate sections. Beginning with the left section, pull a piece of hair from underneath and cross it over the right section so that it becomes a part of the right section. Repeat this on the right side, pulling a piece of hair from underneath and crossing it over the left section of hair. Continue this all the way down the braid, then secure at the end with another clear elastic. Once your braid is finished, use a scissor to gently cut the clear elastic at the top out of your hair. Finish by pulling apart the fishtail just a bit, then pulling out pieces of hair around your face for that perfect, messy look.
Image via Imaxtree