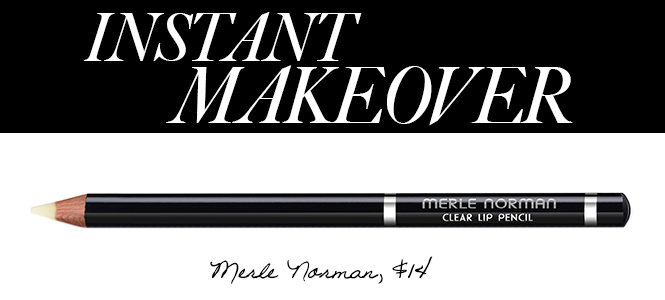 Occasionally we come across a product that bestows an immediate glow, changing our look (for the better!) in an instant. Since we'd be remiss to keep them to ourselves, we highlight these genius finds in our Instant Makeover series.
I never wear lipstick without applying a coat of lip pencil first. Not only does it work as a primer—keeping the color on all day—it prevents the color from bleeding. After all, the key to a bold lip is precise, perfect lines along your pout. With just two lip pencils—one classic red and one bright fuchsia—and about 50 lipsticks, I feel confined to only use similar shades of red and fuchsia while my shades of orange, rose, and bubble gum pink sit on the sidelines.
Until now: The Merle Norman Clear Lip Pencil ($14, available Nov. 1 at merlenorman.com) compliments any lipstick because it applies, you guessed it, clear. Now I can use any shade without compromising its original color. And similar to my favorite pencils, it has a silky texture that adheres to the lips, adding shine and condition. Did I mention it's packed with aloe vera? Now I don't even have to start with a lip conditioner.
Read more: Which Beauty Buys Are Worth the Splurge — and Which Ones Aren't