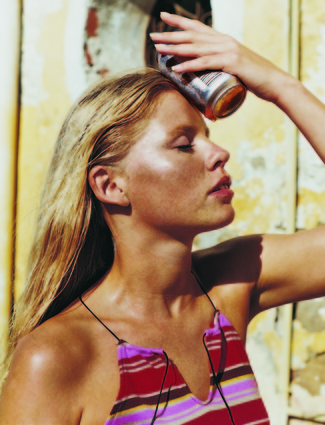 Oh it's getting hot out there, and whether you live in a steamy, humid climate or a dry arid one, finding makeup that won't melt off your face can be challenging. I have a list of some tried and true melt-proof makeup must-haves that will keep you looking perfect all summer long.
1. Peter Thomas Roth Anti-Shine Mattifying Gel ($35, Peterthomasroth.com)
A mattifying primer helps absorb oil and minimize pore size, as well as keep the shine away.
2. Makeup Forever Face And Body Liquid Makeup ($40, Sephora.com)
This is a sweat-proof, waterproof foundation that won't slip and slide off the face. It's one of my all-time favorites, and it's not only light and sheer in summer's heat, but you can swim and play all day at the beach and have a flawless complexion.
3. Kryolan Dermacolor Waterproof Powder ($26, Alconeco.com)
Could there be a waterproof powder you ask? Why yes there is! When applied, it needs to set for 10 minutes before you brush away the excess with a powder brush. Who knew?
4. Sally Hansen Natural Beauty Inspired By Carmindy Forever Stay Eye Pencil in Chocolate Brown ($7.95, Drugstore.com)
Waterproof eyeliners are plentiful and mine is the very best.
5. CoverGirl Intense Shadow Blast Eyeshadow ($7.99, Drugstore.com)
This line of eyeshadows is waterproof and comes in awesome wearable shades for summer. My top picks are Brown Bling and Beige Blaze.
6. Urban Decay Cannonball Ultra Waterproof Mascara ($20, Urbandecay.com)
This mascara is excellent and never gets flaky, so double-dose your lashes for a long-lasting flirty fringe that even synchronized swimmers would be envious of.
7. Hourglass Superficial Waterproof Bronzer ($45, Hourglasscosmetics.com)
This bronzer will keep you sun kissed and set for the whole day, and you can pair it with Benefit Benetint ($29, Benefitcosmetics.com) for a long-term rosy glow.
Now understand that almost every lipstick or lipgloss is waterproof as long as you don't wipe your mouth so swipe on your favorite and you won't have a melt down all season.
As an established makeup artist, many beauty brands send me samples of their latest products for consideration. I only write about the items that I truly love and I always abide by Daily Makeover's Editorial Ethics Pledge in each of my Positively Beautiful posts.