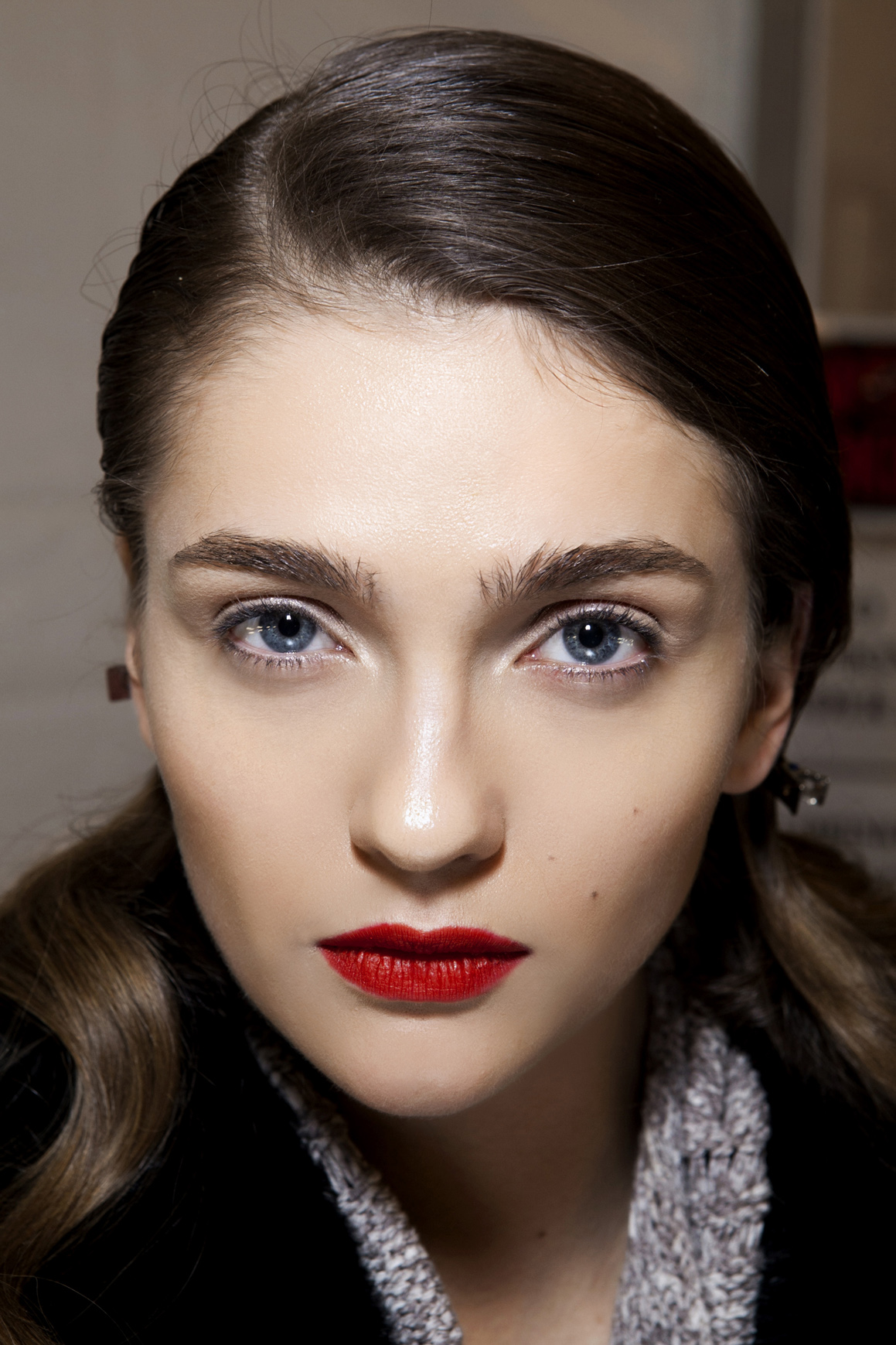 There's just something about matte red lipstick that makes every woman look amazing. It's crisp, it's striking and it's not for the faint of heart. But as much as we love matte red lipstick, there's some serious leg work that goes into getting the look just right. Whether you're a first timer to lipstick in general or you're simply stepping out and trying new lip finishes, we've put together a guide of everything you need to know for the perfect matte lipstick look.
Which to Choose 
First things first, decide on which kind of matte lip product you'd like to use. You've got a choice between lipstick, lip stain, lip gloss that dries to a stain, or a lip pencil. Keep in mind that if you get a lip pencil, you'll also have to get a pencil sharpener that works with that size pencil.
Next, decide on which kind of red you want. For warm skin tones, go with a red with orange-yellow undertones. For cool skin tones, opt for a red with blue-purple undertones.
Some of our favorite matte red lip colors are NARS Velvet Matte Lip Pencil in Cruella, MAC Lipstick in Russian Red and Revlon ColorBurst Matte Balm in Striking.
MORE: Wine Lip Colors in Every Texture
Before You Apply 
If you follow no other rule, simply remember this: You must exfoliate. Matte lipstick can be a bit drying, and nothing ruins a good lip color like dry, flaky skin. When it's possible, exfoliate the night before you'll be wearing matte lipstick, then slather on some of the best emollient lip balm you've got to keep your newly soft lips hydrated all night.
Just before you're going to apply the lipstick, blot away any kind of moisture from your lips. Having any balm or anything on your lips can make the color slip off or not even transfer onto your lips properly, so you need to start with a fresh, clean base.
To really make the color pop on your lips, line just outside of your lip line with concealer and blend well. Adding just a touch of cover up will not only give a contrast between your red lips and your skin, it'll also create a barrier for color so that the lipstick won't bleed.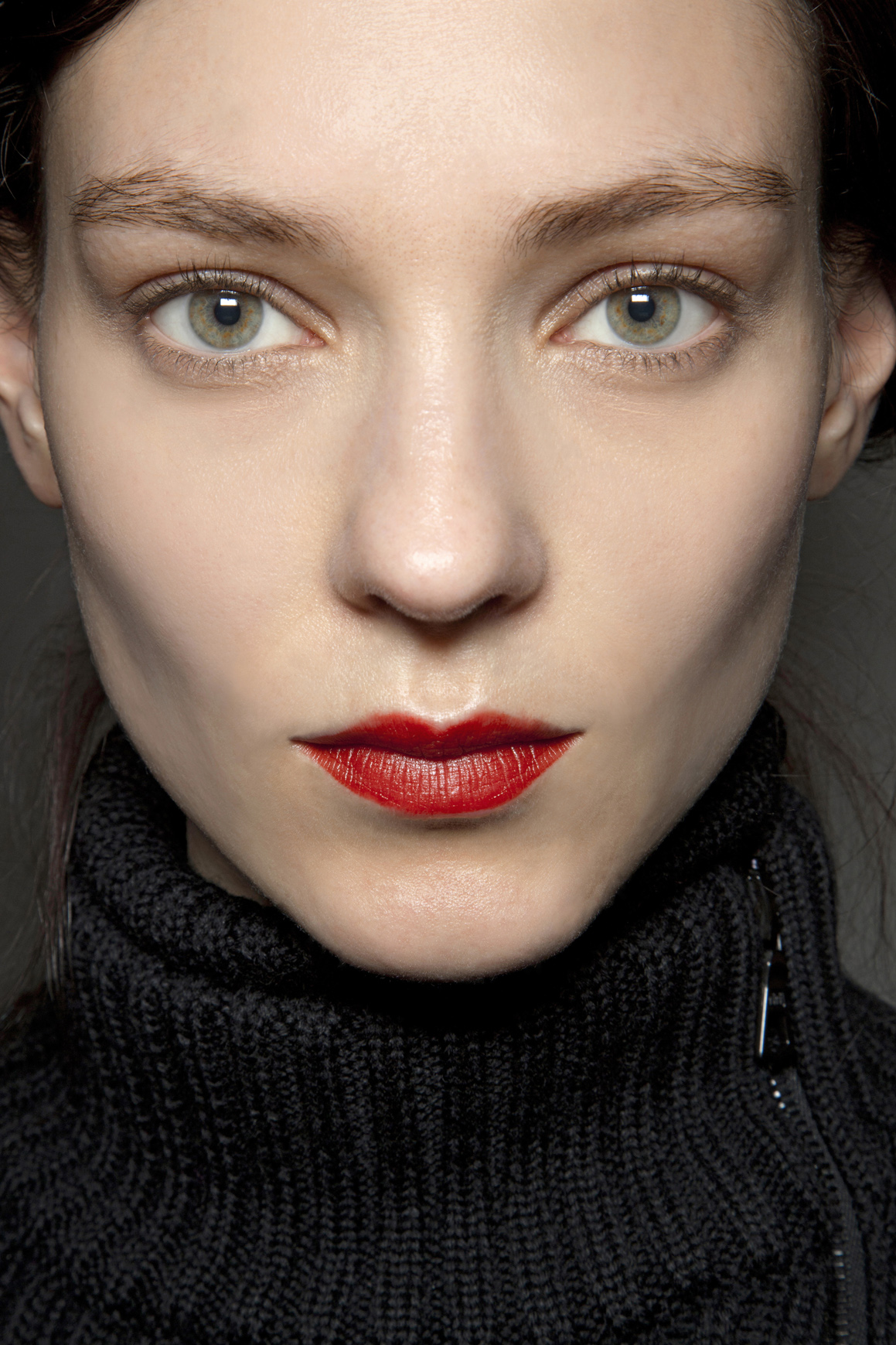 MORE: Matte Lipstick: All You Need to Know About the Look
How to Apply
First, make sure that the surface of the lipstick is clean and smooth. Begin to apply to your top lip from the center out to one side at a time.
Apply the lipstick to your bottom lip and go all the way in to the corners of your mouth. Gently blot your lips together.
Go back over the top lip, making sure you create just a pinch of definition at the cupid's bow by bringing the line of lipstick up just a bit at the center of your lip. Reapply over the bottom lip as well.
Because matte lipstick tends to simply dry on your lips, there's no need to blot your lips on a tissue, because just about no color will transfer off.
MORE: Our Favorite Tricks to Make Your Lipstick Stay Put
Tricks of the Trade
Every lipstick tends to dry out, but matte lipstick requires some extra elbow grease to keep it looking so flawless. Using a lip crayon that's either nude or the color of your natural lips, apply the natural color just on the inside of your lips at the edge of your lipstick. The balm consistency of the crayon will keep the edge of your lips moist and will act as a barrier between your teeth and your lipstick, which is key.
Dying to try matte lipstick but not sure if you want to commit to a purchase just yet? Apply your usual red lipstick (preferably a cream finish) and then using your finger, dab loose, translucent powder over your lips. The powder will suck up any moisture and give a gorgeous matte finish — just remember to blend well.
Image via Imaxtree