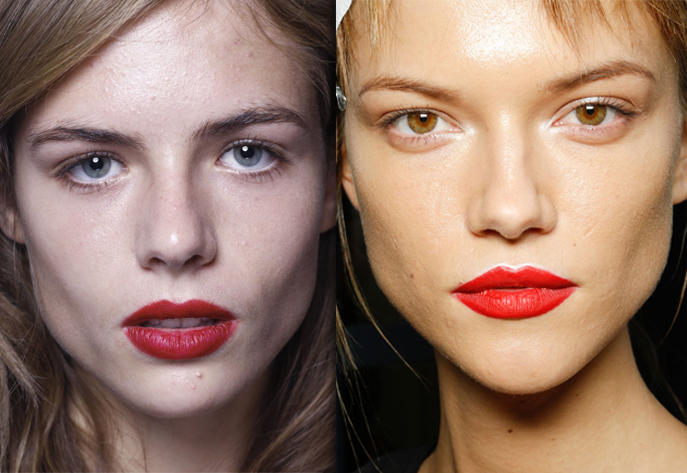 After a pretty steady stream of subtle makeup looks during New York Fashion Week, we are loving the red lips popping up in both London and Milan. The statement red lip is back in full force, and although it is nothing new, the clean tweaks that Pat McGrath has created at Prada and Wendy Rowe at Burberry have inspired us to grab our favorite red lipsticks immediately.
Last week at Burberry (pictured left), Rowe debuted a pop of color on the lips, taking the brand away from their usual neutral color palette. Using the Burberry Lipstick in Siren, Rowe created a look based on the 40's, yet modernized. She applied the crimson color with a brush to control the application and continuously blotted it as the went.
For Prada (pictured right), Pat McGrath painted on matte, fire-red lipstick (she used Hot from CoverGirl's LipPerfection line) and then pressed a pink cream right into the center of the lips for an extra pop of color. The models then blotted their lips repeatedly with a tissue for an extra-matte finish. McGrath also added theatrical white paint above the cupid's bow (something you can leave off when doing at home) for the final runway touch.
[Images via IMAXtree]